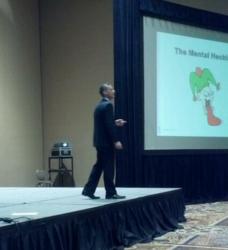 I've learned from owning my own Edible Arrangements franchise for the past six years that success requires so much more than being operationally sound. It also requires internal mastery of our thoughts, actions, and behaviors
Los Angeles, CA (PRWEB) April 11, 2012
Wyndham Hotel Group, one of the world's largest hotel companies with over 7,210 hotels worldwide, recently hosted motivational franchise speaker Scott Greenberg to conduct two motivational business seminars at their global conference in Las Vegas, Nevada. The two seminars at 11:00am and 2:00pm, were hosted at the Mandalay Bay Convention Center on Wednesday, April 4th, 2012. "Achieve 2012", the five day global conference, was attended by franchise owners and their staff, as well as company executives from the Wyndham Hotel Group's corporate headquarters in Parsippany, New Jersey. Greenberg's leadership seminars were entitled, "Internal Mastery, External Results"
Greenberg's two 60-minute presentations, translated into three different languages, were designed to help their business leaders learn how to master the internal barriers that hinder them from achieving long term results in their businesses. The seminar, customized for the Wyndham Hotel Group's franchisees, gave attendees insights on the importance of mastering their own thoughts and behaviors while being cognizant of those of their employees. Greenberg focuses his discussions on the soft skills of business that are often neglected while attention is being given to mastering the operational side of business.
"I love speaking to franchisees on soft business skills," says motivational franchise speaker Scott Greenberg. "I've learned from owning my own Edible Arrangements franchise for the past six years that success requires so much more than being operationally sound. It also requires internal mastery of our thoughts, actions, and behaviors."
Greenberg's personal experience as a franchise owner is the basis for many of his stories and seminar topics. By applying the concepts Greenberg speaks on into his own Edible Arrangements business, his West Hollywood store has recently won awards for "Best Customer Service" and "Manager of the Year".
Motivational franchise speaker Scott Greenberg travels around the world to company's like the Wyndham Hotel Group, presenting motivational keynotes, workshops and seminars to business leaders on how to develop personal resilience, confidence, and solid interpersonal skills to maximize business performance. Some of Greenberg's previous clients include Nike, 20th Century Fox Television, Global Franchise Group and the Young Presidents' Organization. For more information about Scott Greenberg's client list please visit the website at http://www.scottgreenberg.com.
About Scott Greenberg
Greenberg is a motivational speaker specializing in resilience, peak performance, and emotional intelligence. His personal battle with cancer and inspiration from his "Schindler's List" holocaust surviving Grandmother are the basis for some of his motivational stories. Since 1993, Scott has spoken to a variety of organizations looking to improve their leadership, customer service and work environment. Clients include Nike, Cargill International, the United Nations and the U.S. Department of the Interior. Scott has written three books on leadership and is a contributing author to "Chicken Soup for the College Soul." For more information about Scott Greenberg, visit http://www.scottgreenberg.com or call 1-800-450-0432 (or outside the U.S. 1-818-785-5202).