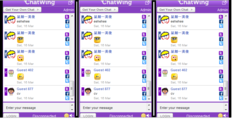 Seattle, WA (PRWEB) April 11, 2012
People love to engage in entertaining chat every now and then. This is true, especially for people who spend a lot of time in the Internet. There are many things to talk about in every chatroom. In fact, most chatrooms are sorted into categories so that people can find them easily. The Chatwing application is dedicated to the pursuit of a whole new chatting experience. This chat application is known for its simplicity and high rate of global connection.
One of the best things about Chatwing is the capability to leverage Facebook. Here, users can log in using their Facebook accounts. This simply means an easy exchange of personal information. A user can just click another user's logged in name, and he can now send invitation through Facebook.
Chatwing is a free chat widget. This is unlike other applications with initial subscription fees and hidden fees. People are skeptical to pay dollars for some applications that won't generate enough connectivity. Ever since its inception, Chatwing has already operated on the freemium business model for chats. Its developers believed that people can get more out of free programs.
Most users of Chatwing are active bloggers. They saw the potential of Chatwing in their blogs. After embedding Chatwing, their blog's visibility reached an immediate spike of about 80%. This happened within the first week of Chatwing usage. This simply means that visitors always love to talk to each other and perhaps communicate with the blogger. It also helped a lot for those blogs delving in sensational topics.
Many people are also interested in website chat. Through the Chatwing chat box, they can make new friends and learn new things. Bloggers who want to explore Chatwing can visit its homepage or Facebook page. The Chatwing blog is also updated every now and then.
About Chatwing
Chatwing.com has developed live chat software for websites and blogs. The Chatwing.com website offers users the ability to signup and create a customizable live chat feature in 1 minute or less. Users have the ability to customize the size, color, and fonts of the chat product. The ability to chat via social media accounts such as Facebook and Twitter enable Chatwing to offer a personal and unique real-time experience to all sites. Chatwing is 100% free web software.