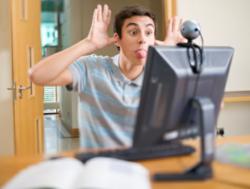 Cambridge, MA (PRWEB) April 11, 2012
Chatting is one of the main ways on how to find a date. This is the reason why there are many chat applications created and chatrooms are sorted according to topics and basic interests. Iddin, a random web chat application, focuses on spontaneous chat while protecting the privacy of the user. Iddin also has an improved rate of connectivity compared to other applications specializing on random chat.
Iddin specializes on the niche of random chatting. Random chatting is considered spontaneous because the chatter can meet different people within a span of time. Through Iddin, a person can chat with any stranger from different parts of the world. Once the location has been configured, Iddin will connect the chatter in just few seconds.
Date finding is common in Iddin. Since it is a chatroom, many people are looking for new friends or love interests. It has also been proven that Iddin Live has a more challenging ground compared to other chat applications. Without personal information, the chatter has to carefully select his words, or the stranger may leave him. Become too rude and the chance will go to waste. Become too boring, and the stranger will look for other conversations to begin with. Iddin, basically, is IM chat with a twist.
Using Iddin is easier compared to other applications that require clients or programs to be downloaded. The user must select from three key options: specific country, anybody from the USA, or anybody. The 'Anybody' option renders the engine to search for a stranger from any part of the world. It will zero in to the next location that it can find.
Today, many people chat online with Iddin Live because of the thrill that it can bring. For more information, new users can always visit the Iddin website. In case of bugs, users can email the Iddin staff and their queries will be answered.
About Iddin
Iddin is a free web application that specializes in generating random chat with strangers. Users can choose the locations of the strangers, or they can have the engine to search the whole world. Random chat is encouraged to protect the identity of people and also to empower spontaneous connection that is fun and interesting. Users can visit http://www.iddin.com to discover its features.