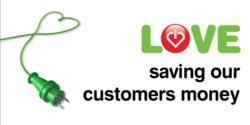 Love Energy Savings who compare gas and electricity prices are expanding rapidly
Bolton, UK (PRWEB UK) 13 April 2012
Love Energy Savings who compare gas and business electricity prices are investigating moving to larger premises due to their expansion. In recent months Love Energy Savings have increased their staff in order to provide better services to their customers. The management teams at Love Energy Savings is intending on employing more staff and are now researching new office premises in order to accommodate a larger amount of employees.
It is an exceptionally exciting time for Love Energy Savings their new brand has taken off and their client base is increasing every day. The service they provide is outstanding and the customer satisfaction rate is extremely high .Glowing testimonials show the success of the customer's receiving cheap gas and cheap electricity.
Due to the increase in customers there is now a high need for more staff and premises are being researched in order to be able to accommodate them. Love energy savings are running a huge recruitment drive across Bolton. They are pleased to be acquiring talent.
Love Energy Savings help their clients' save on business gas, electricity, phone and insurance. They have been doing that for countless customers nationwide, since 2007. They are experts in the field of saving their clients' money on business energy and run through the process from end to end with their clients meaning that the transition is seamless and allow their clients to sit back, relax and let the professionals take care of their business energy switch.
For more information please visit http://www.loveenergysavings.co.uk or to speak to an advisor call 08000932791.
Compare electricity prices with Love Energy Savings and be sure to get cheap gas and cheap electric. Every client that switches there electric and gas bills with Love