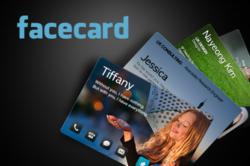 Seoul, South Korea (PRWEB) April 11, 2012
Connecting digitally is a vital and vibrant part of today's society. While attempts at providing ever more convenient, creative, and elegant means of sharing information with our contacts are many, few concepts offer something new. The newly launched app my facecard for iPhone and iPod aims to provide users with a way to simultaneously simplify and enhance the experience of sharing information with one another.
With equal measures of simplicity and creativity, my facecard is a communication innovation. The "facecard" each user creates within the application's intuitive interface functions as more than a calling card which can be shared digitally. Each user's facecard is a creative expression of him- or herself which functions as a contact card. my facecard collects the user's preferred methods of communication in one easy to access place, but it does much more than that. Because the information contained on each facecard is interactive, one can call, email, and access social networking accounts directly from the contact's facecard.
Facecards are shared effortlessly with other application users, making it easy to get in touch and stay in touch. There are a number of wireless options, including the "bump" feature—the option for users to share their facecards with one another by tapping their phones together. Each user designs his or her own facecard, choosing photos to serve as the background for their complete, linked contact information. Users names are attractively presented in their choice of color and font, and facecards can be further enhanced with brief quotes or bios. As a utility, my facecard is a practical, attractive, and convenient new method for sharing information with one's contacts—and it's attractively and practically priced as well. At $0.99 in the iTunes App Store, my facecard promises to be a must-have application.
Device Requirements:

iPhone and iPod Touch
Requires iOS 4.3 or later
13.9 MB
Pricing and Availability:
my facecard is now $0.99 USD (or equivalent amount in other currencies) and available worldwide exclusively through the App Store in the Social Networking category.
To learn more about my facecard visit http://www.face-card.net
About SK Planet:
SK Planet, a wholly owned subsidiary of SK Telecom, was established on October 1, 2011, with an aspiration to become a global platform innovator. As the lynchpin of SK Telecom's future growth, the company was spun off with the industry-leading platform businesses including T-Store, T-map, MelOn, Cyworld and hoppin, Korea's biggest mobile app store, mobile navigation, online music service, SNS and multi-screen premium video service. SK Planet is committed to building global platform business in Asia and other strategic markets.