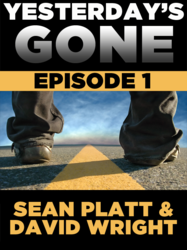 We feel so fortunate to have such loyal readers that support us and allow us to keep writing every week. We thought it was time to do something cool, so we decided what's cooler than giving away a Kindle Fire?
Cincinnati, OH (PRWEB) April 11, 2012
Authors Sean Platt and David W. Wright, are giving away a free Kindle Fire to say thank you to their fans and celebrate the success of their post-apocalyptic serial, Yesterday's Gone.
"The readers have been so supportive of us and have allowed us to make a living doing what we love doing, writing fiction. We decided to spend a bit of our royalty checks this month on a Kindle Fire," said Platt.
The writing duo are publishing a book (or episode as they call them) per week in 2012 in efforts to become 'Kings of the Serial,' via their publishing company, Collective Inkwell.
Wright and Platt never bothered pursuing a traditional publishing deal, since they each had active, engaged online audiences and figured no publisher in the world would commit to a serialized story from two unknowns. So they took their stories directly to where the eBook readers were.
"We knew if we were gonna do this, we had to do it ourselves," Platt said. "And thankfully this was right about the time that Amazon gave self-publishers a way to find and build their own audiences. We didn't have to worry whether a big publisher thought the risk was worth the investment."
While "Season One" of "Yesterday's Gone" drew respectable sales numbers and reader reviews, it wasn't until "Season Two" came out this January, that things really started to take off for Platt and Wright. Now they're making a living off of their serials.
This year they've also released the first season of "ForNevermore," their young adult serial, and are launching their next adult horror series, "WhiteSpace," on April 24. They're also bringing back "Yesterday's Gone" for its third season on June 19. Each episode (depending on the title) ranges from 12,000 to more than 24,000 words.
The authors release compilations containing six episodes each, which comprise the seasons of their titles. The duo says that offering readers a choice of either buying the serials in weekly doses or waiting for the whole season book has been one of the keys to their success.
Another, of course, is the readers.
"We feel so fortunate to have such loyal readers that support us and allow us to keep writing every week. We thought it was time to do something cool, so we decided what's cooler than giving away a Kindle Fire?," said Platt.
HOW YOU CAN WIN: (THE RULES)
This contest is open to anyone in the United States 18 and over.
All readers have to do is answer the following SUPER EASY question:
What is the last sentence of Chapter One? Please write it as it appears.
Readers can get the answer by downloading and reading "Yesterday's Gone: Episode 1" currently available for free at Amazon, Barnes & Noble, Apple, or Smashwords.
Yesterday's Gone Episode One download links:
Amazon - http://www.amazon.com/dp/B005FHO9AU/
Barnes & Noble - http://www.barnesandnoble.com/w/yesterdays-gone-sean-platt/1105384097
Apple - http://itunes.apple.com/us/book/yesterdays-gone-episode-1/id462807689?mt=11
Smashwords - https://www.smashwords.com/books/view/82681
Winners can easily get additional points toward the contest by liking the blog post and tweeting about it from the form on the webpage.
You have from 12:01 a.m. April 11, 2012 through 12:01 a.m. April 19 to enter.
One winner will be chosen at random via the Rafflecopter generator and announced at the authors' website CollectiveInkwell.Com on Monday April 23.
The winner will be notified via email and on the website, Sunday April 22. The winner will have 5 days to respond with a valid mailing address in the United States or they will be disqualified and another winner chosen.
No purchase required as the book can be downloaded for free at the following websites and does not require an eReader. Amazon offers a free Kindle app for your PC and Smashwords offers free reading on their website or via downloads in various formats. The sponsor, Collective Inkwell, is not responsible if any of the websites change the price or if the book is unavailable at any of the above websites.
To enter the contest, visit: http://collectiveinkwell.com/win-a-kindle-fire/
Collective Inkwell is the publishing company of Indie Authors Sean Platt and David W. Wright. Learn more about their books by visiting http://collectiveinkwell.com