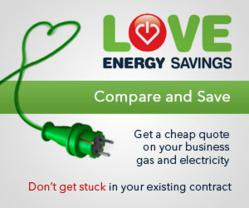 Love Energy Savings are proud to serve their 15000th customer
Bolton, UK (PRWEB UK) 14 April 2012
Local Bolton business Love Energy Savings who compare business gas and electricity prices are proud to serve their 15000th customer.
With the rapid expansion of Love Energy Savings and the huge recruitment drive, Love Energy Savings have been able to increase the amount of customers they serve a provide a high level of top quality service to all clients.
It is an exceptionally exciting time for Love Energy Savings their new brand has taken off and their client base is increasing every day. The service they provide is outstanding and the customer satisfaction rate is extremely high .Glowing testimonials show the success of the customer's receiving cheap gas and cheap electricity.
Love Energy Savings are proud to help customers get cheap gas and cheap electricity and help business save money. On average Love Energy Savings save each SME 1050 pound.
Love Energy Savings clients trust them for fast, free and impartial advice on the best possible energy savings. Compare electricity prices with Love Energy Savings and be sure to get cheap gas and cheap electric. Every client that switches there electric and gas bills with Love Energy Savings saves money.
Visit http://www.loveenergysavings.com to save on business electricity or to speak to an advisor on 08000932791.
From Land's End to John O'Groats, Love Energy Savings know the lay of the land when it comes to utility suppliers. They know who's where, what is what, and when to make the best move to get their clients the biggest and best savings