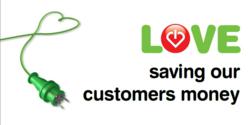 Love energy Savings save on average 1050 pound per SME per year
(PRWEB UK) 16 April 2012
Every client that switches there electric and gas bills with Love Energy Savings saves money. Love Energy Savings encourage business to make savings in this current economic climate and not waste money.Love Energy Savings helps save on average £1050 per SME per year on business electricity and gas.
Love Energy Savings pride themselves on excellent customer service and helping all clients create savings.
Due to recent price increases, rates have been going through the roof on gas and electric bills. Love Energy Saving have helped prevent price hikes by offering a cheaper solution and capped energy prices for up to three years.Love Energy Savings also checks if they can save companies money in other areas of business, to make sure that the business always get the best deal. With an average saving of £1050 pound per SME an there is huge potential for all Small Medium Enterprises to save money. Nearly all roll over contracts have higher prices than the first year contract and 70% of businesses roll over into high price contracts and spend more money than they need to. It is essential businesses protect themselves from this happening and ensure they get cheap gas and electricity.
Love Energy savings loves to help all their customers by offering them cheap gas and cheap electricity. Love Energy Savings will give SME's their own dedicated account manager who can talk businesses though the switch who will be able to answer any questions or solve any problem the customers may have. They also periodically contact their clients to ensure that they are happy with the service from the supplier they have chosen.
Love Energy Savings, the B2B price comparison service based on Springfield Court, off Summerfield Road, Bolton, Lancashire are experts in the field of saving their clients' money on business energy and run through the process from end to end with their clients meaning that the transition is seamless and allow their clients to sit back, relax and let the professionals take care of their business energy switch.For more information about Love EnergySsavings please visit http://www.loveenergysavings.com.To speak with an advisor for advice on business electricity call 08000932791.