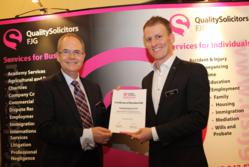 "That," says QualitySolicitors Chief Executive Craig Holt, "is just the beginning."
Colchester, Essex (PRWEB UK) 12 April 2012
Colchester leading law firm Fisher Jones Greenwood (FJG) has been selected amidst strong competition to become a QualitySolicitors firm as we see the massive expansion of the UK's first national legal brand, QualitySolicitors, as the law sector prepares itself for 'Tesco law'.
In a move destined to change the face of the UK legal market, QualitySolicitors, described as the 'next generation legal brand', plans to launch a QualitySolicitors law firm in every major town and city. This latest launch of new QualitySolicitors firms will take the number of locations to almost 200, as the brand moves closer to its goal of providing the first recognised 'household name' for legal services.
The brand's expansion comes ahead of major changes due to take place in the legal market. These changes, dubbed 'Tesco law', will allow banks and retail brands to provide legal services for the first time from October 2011. In an effort to stay ahead of this new competition, QualitySolicitors firms are required to commit to providing the highest levels of customer service including a free first consultation and a same day response service.
"That," says QualitySolicitors Chief Executive Craig Holt, "is just the beginning."
"The legal market is going to totally transform over the next couple of years. We will ensure going to a Qualitysolicitors branch for legal matters will be as a familiar and easy as calling into a well-known shop or opticians. With a range of innovations in the coming months, we will change people's entire experience of accessing legal services, making it a much easier and more enjoyable process. By providing a recognisable and trusted brand name, we will end the need for the time consuming and often stressful task of having to choose between lots of different local firms."
Firms who apply to become QualitySolicitors firms are required to undergo a rigorous selection process, with public feedback being the decisive factor.
Now known as "QualitySolicitors FJG" the firm's Colchester, Chelmsford, Clacton and Fleet Street locations have been rebranded to the distinctive style of the new brand.
Senior partner, Tony Fisher commented, "We are delighted our firm has been chosen and even more so because of our client's feedback that led us to be chosen. It's fantastic news for us and for Colchester, which will benefit hugely from having a QualitySolicitors firm providing legal services".
Fisher Jones Greenwood invited local businesses to attend Colchester's launch at firstsite on Wednesday 28th March. It was attended by over 150 companies looking to learn more about what these dramatic changes will mean on a local level.
The evening saw formal presentations by Craig Holt and Tony Fisher as well as celebratory drinks, canapés, music from The Short People and a heart warming dance display by the Carol Gale School of Dance, choreographed to the music of the impressive new TV ad campaign for QualitySolicitors, created by Saatchi and Saatchi.
For more information please contact 0845 543 5700 or visit http://www.qsfjg.co.uk