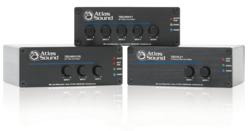 AV problem solvers designed to alleviate the most common audio installation challenges.
Nottingham (PRWEB UK) 12 April 2012
CIE-Group – European master distributors for US audio brand Atlas Sound – has announced the UK and mainland European launch of Atlas Sound's brand new 'Time Saving Device' (TSD) range.
With a range of 17 brand new devices, the Atlas Sound 'TSD' range provides a whole host of AV problem solvers designed to alleviate many of the most common audio system installation challenges with simple, low cost and efficient solutions.
Using high quality components and real-world application design solutions, the TSD range includes compact mixers, amplifiers, pre-amps and a range of audio signal distribution & control devices.
Atlas Sound's Time Saving Devices are feature-loaded and designed with simplicity of installation and use in mind – saving time, money and hassle. Each unit is housed in a highly compact, robust metal housing. Common features include removable individual Input/Output connectors for fast, simple wiring, separate ground terminals for all Inputs/Outputs assuring secured connections and removable level controls which can easily be replaced with a tamper-proof security cover (supplied).
The new TSDs also meet energy saving standards as one user-selected 24VDC power supply can power a number of Atlas Sound Time Saving Devices at one time.
"The development of the TSD range is all part of a recent increase in new product development from Atlas Sound, who have a history of 70 years in the audio installation sector," said Chris Edwards, Marketing Director for CIE-Group. "These efficient devices simplify your system and include such features as distributing and mixing input and output signals, tapping off speaker lines for remote amplification, impedance and gain matching, and so many more of the in-line system functions that are required without extra costs."
"We're also extremely excited about the recent launch of Atlas Sound's 'ControlKom' range of IP-addressable loudspeaker and PA system products which we'll also be launching into the UK and European markets over the coming weeks."