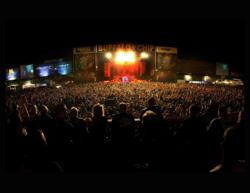 It's a long tradition at the Buffalo Chip to introduce current chart topping acts to the Sturgis Rally crowd. Rod Woodruff, Sturgis Buffalo Chip
Sturgis, South Dakota (PRWEB) April 12, 2012
The Sturgis Buffalo Chip, the entertainment venue that becomes South Dakota's third-largest city in August during the motorcycle rally, will welcome Eric Church's fan club – called The Church Choir -- Wednesday August 8, 2012.
Eric Church is a rebel who's never made the safe choices, and the whole country continues to explode in enthusiasm for his music. His first album, "Sinners Like Me," brought his singing and songwriting to national attention. His Grammy-nominated third album, "Chief," includes the gold #1 single "Drink In My Hand." His current headlining tour is dubbed "Eric Church: The Blood, Sweat & Beers Tour" -- beautifully named, since his music is steeped in wit, wild nights and honky-tonk hangovers. Pretty funny, how Church can be popular across all interest groups, neighborhoods and attitudes. The man who wrote "Heaven on the eyes but hell on the heart" and "Hungover and Hard Up" even saw his current album named one of the Top Ten Albums of the Year – by NPR!
BAM, Free Breakdown and Legal Assistance for Motorcyclists is a volunteer program for motorcyclists with over 1.5 million members and is growing stronger every day. 75 lucky BAM Benefit Card holders will win tickets to the Sturgis Buffalo Chip for Wed August 8, 2012 which includes admittance to the Top Shelf Suite for the concert and the 'Night of Celebrating Women of Motorcycling' event.
Get the Russ Brown Motorcycle Attorneys 'BAM Benefit Card' and have the strength of 1.5 million fellow riders on the road.
For more information on how to join BAM and to enter the contest to win tickets to Russ Brown Motorcycle Attorneys Night at the Sturgis Buffalo Chip - 'Celebrating Women of Motorcycling' go to http://www.russbrown.com or call 1-800-424-5377 to speak to a BAM rep or stop by the Russ Brown Motorcycle Attorneys/ BAM Booth at any major motorcycle rally across the US.