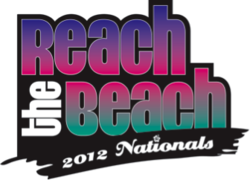 Elkridge, MD (PRWEB) April 11, 2012
The staff at the EPIC Brands has a lot to celebrate after last weekend: they have successfully run their 25th Reach the Beach National Cheer and Dance Championship in Ocean City, MD. The staff at the EPIC Brands would like to thank all of the coaches, competitors, and fans for making the 2012 Reach the Beach All Star and College Nationals our best one to date. Some highlights from the weekend are included below:
Friday, March 30th:
3:30 pm- Soloists and stunt groups started pouring into the convention center for our first day of competition- It's official, RTB All Star 2012 has begun! Over 75 fantastic performances in the Cheer Solo, Cheer Duet/Trio, Stunt Group, Dance Solo, and Dance Duet/Trio divisions took place on Friday evening at the Roland E. Powell Convention Center.
Special congratulations to James Hund from World Challenge All Stars for being the highest scoring soloist, winning a $500 check!
Special Congratulations to Maryland All Stars' Maddie and Harley for being the highest scoring partner/group stunt, also winning a $500 check!
Saturday, March 31st:
6:00 am- The doors opened for the start of Team Competition Day 1. Approximately 285 team performances took place throughout the entire day, including over 25 teams competing for our bids to the Cheerleading Worlds.
Our IEP award winner, Sydney from Ohio Valley All Stars, was recognized on stage after her performance on Saturday. Sydney is represents a group that EPIC employees hold very dear- she is a member of the Ohio Valley All Stars Special Needs team, and suffers from uncontrollable seizures. Just before her team was set to hit the warm up floor on Saturday, she had a seizure and needed medication to ease it. Moments later, even though she was practically asleep in her mother's arms because her medication makes her drowsy, her coach asked her if she'd be able to do the routine or if she wanted them to re-work it without her. Sydney's dedication to her team, her coach, and to cheerleading gave her the push she needed. "No I'm doing the routine- anything for you coach!" she said, and woke herself up to get on the mat with her team. Sydney is just one example of the many cheerleaders at our events that show the utmost passion for cheerleading and strive for excellence at every opportunity.
Our Coach of the Year, Pattie from Tri-State All Stars, was recognized on stage on Saturday evening at 6:00 pm. The EPIC Brands staff was thrilled to recognize such a dedicated coach in the spirit industry.
The winner of a brand new KIA Soul was announced at 6:30. After the name was announced, the winner had only 60 SECONDS to get up to the stage, or a different name was to be called. Neil from Northern Elite All Stars was announced first...he was not there! The announcer called a second name, and Maria, also from Northern Elite All Stars, won herself a car. Northern Elite has some lucky coaches!
Day 1 wrapped up around 9:45 pm, and the competition ran impressively smoothly and everyone had a great time.
Sunday, April 1st:
6:00 am- Doors open again for the start of Day 2. The EPIC Brands recognized many great performances and National Champion teams, but listed below are a few notable awards that were given out:
Level 1 Grand Champion and winner of $3,000: Dream All Stars Eclipse
Level 2 Grand Champions and winner of $3,000: East Coast Nitros Aftershock
Level 3 Grand Champions and winner of $3,000: Penn Elite All Stars
Level 4 Grand Champions and winner of $3,000: Maryland Twisters Hail
Level 5/6 Grand Champions and winner of $3,000: Maryland Twisters F5
The Cheerleading Worlds Bids:
At Large: Maryland Marlins Rogue
At Large: Maryland Twisters Lady T's
At Large: Cheer Tyme International Invasion
Full Paid: Maryland Twisters Reign
The EPIC office has received a phenomenal amount of positive feedback from Reach the Beach All Star and College 2012, and we are so appreciative to everyone involved for making it a success. We look forward to a great 2012-2013 season and even bigger national championships!