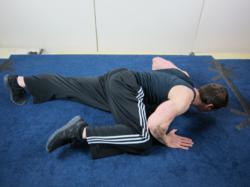 The most critical component of the goal to workout from home is consistency.
Tempe, AZ (PRWEB) April 11, 2012
Implementing a home workout routine is not only convenient, it also promises to significantly reduce health costs. Attainable regimens to workout from home can help many achieve their ideal weight. It is evident that carrying any amount of excess weight increases health risk. Diet changes alone my not be enough to promote maximum health benefits.
A consistent effort to workout from home can decrease the risk associated with heart disease in its various forms. According to a recent study published by Hillman and Kravitz "The encouragement of regular exercise is not only useful as a treatment method for individuals with hypertension, but should also be advocated as a means for prevention. Predictors that may be examined to evaluate the risk of developing hypertension include resting BP, family history, and physical activity levels. Higher physical activity levels have shown an inverse relationship to the development of hypertension." Hypertension and high blood pressure can lead to serious cardiovascular complications.
Choosing to workout from home facilitates a commitment to personal health and eventual weight loss. Americans that are overweight run the gamut of health risks. Being even 20 pounds overweight increases the risk of type two diabetes. Extra weight creates added stress on the back and joints. Unresolved chronic back pain is an epidemic in America with limited methods to manage the pain. A recent article published by Spine-Health highlights this issue.
"For people who are overweight, attention to overall weight loss is important as every pound adds strain to the muscles and ligaments in the back. In order to compensate for extra weight, the spine can become tilted and stressed unevenly. As a result, over time, the back may lose its proper support and an unnatural curvature of the spine may develop. In particular, pain and problems in the low back may be aggravated by obesity. This occurs for people with extra weight in their stomachs because the excess weight pulls the pelvis forward and strains the lower back, creating lower back pain. According to the American Obesity Association, women who are obese or who have a large waist size are particularly at risk for lower back pain."
Why not implement a home exercise routine in order to strengthen the body, reduce fat and improve health? An extended effort to invest in personal health has a positive effect on self-esteem. The workout from home lends itself to a natural feeling of comfort when attempting new exercise moves that are challenge or initially awkward. Taking a step towards improving the body image lessons the feeling of self-consciousness, which can too easily lead into depression and discouragement.
Aaron Ormiston and Josiah Grimes, owners of Victa Creations LLC and Home Workout Professionals, have just released the revolutionary new "Victa Home Training Program". The Victa Home Workout Program is a groundbreaking new process that has been constructed in light of a recent study conducted in December by Canadian researchers that showed drastic weight loss and muscle toning results from short spurts of exercise separated by intervals of rest. In their studies, the researchers were able to show that short spurts of high intensity exercise with short intervals of rest between exercises was able to increase fat loss in women by nearly 36%. By abandoning the traditional home workout routine that consists of long cardio sessions and glorified dance aerobics, the Victa Home Training Program boasts drastic results in a quicker time frame. It focuses on short, high intensity workouts that build healthy (not bulky) muscle and promote a full body level of fitness.
Additionally, the program does what no other "at home" program attempts to do - it develops all key areas of fitness including strength, agility, balance, power, stamina, cardiovascular endurance, respiratory endurance, accuracy, and speed. Other workout routines focus on mainly strength or cardiovascular endurance and, consequently, the athlete loses their full body fitness by not being well rounded. For more information, feel free to contact Mr. Ormiston directly at admin(at)homeworkoutpros(dot)com. His home workout headquarters is located at 1 East Washington St. Suite 500A Phoenix, AZ 85004.