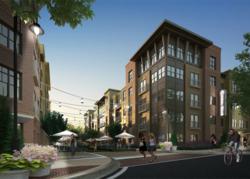 "It (Gables Upper Rock) is an ideal location for those seeking a convenient lifestyle", noted Gables Residential Vice President Investments, Jorgen Punda.
Rockville, MD (PRWEB) April 13, 2012
Gables Residential, a leader in the development and management of multifamily communities, and joint venture partner USAA, announce that Gables Upper Rock, a new 275-unit, luxury rental apartment community will begin pre-leasing residences April 16, 2012.
Gables Upper Rock, a highly anticipated apartment community due to its desirable location and high-quality residences, will be part of the Upper Rock District located in the City of Rockville. The Upper Rock District, an infill community designed in 2004 by renowned planner Andres Duany, is situated at the southeast corner of Shady Grove Road and Interstate I-270. The 20-acre site will ultimately include a mix of uses, including residential, office, and retail. Located just north of the award-winning King Farm master planned development, Gables Upper Rock has access to I-270 and I-200 (Inter-county Connector) and will be less than 2 miles to the Shady Grove Metro Stop connecting it directly to Washington, D.C. and other local and regional destinations.
"Gables Upper Rock and The Upper Rock District represent a great example of creatively transforming an underutilized site at a great location. We believe this new community will offer residents best in class apartment home living and convenient access to public transportation with both a Metro shuttle and a future Corridor Cities Transitway stop. It is an ideal location for those seeking a convenient lifestyle," noted Gables Residential Vice President Investments, Jorgen Punda.
The project is planned to achieve Bronze Certification under the National Green Building Standard and will incorporate a number of green features including dual-flush toilets, car charging stations, separate trash chutes for recycling, low-flow kitchen/bath fixtures, and high-efficient lighting. In designing Gables Upper Rock, architects and planners worked closely with NAHB to insure key green features were incorporated and best practices of the National Green Building Standard were being implemented.
"It's terrific to see a leading multifamily firm like Gables commit to building to the National Green Building Standard (NGBS)," says Doug Bibby, President of the National Multi Housing Council. "We have been proponents of the NGBS since it was first proposed because it reflects the inherent value of green building. By certifying this property to the NGBS, Gables is assuring its residents that their new homes meet rigorous, third-party environmental benchmarks including energy efficiency, water conservation and conscientious land development."
Designed by the local office of the Preston Partnership, Gables Upper Rock will offer distinctive apartment homes and a unique, contemporary architecture. A smoke-free community, Gables Upper Rock apartment residences will feature hardwood flooring, sleek kitchens with stainless steel appliances, quartz countertops and tile back splashes, built in microwaves, and a washer and dryer in all residences. A mix of 1-bedroom, 2-bedroom, and 2-bedroom with lofts will be offered.
Community amenities will include a club-quality fitness center with yoga studio, indoor wi-fi café with coffee bar, clubroom with demonstration kitchen, game room with foosball, pool table and video gaming, an outdoor lounge with fire pit and cinema screen, and a relaxing pool. Additionally, residents will be offered convenient bicycle storage and gated parking with direct floor access. Residents will also enjoy the convenience of a metro shuttle that will provide service to the Shady Grove Metro Station.
Public streetscapes and pocket parks were designed by local landscape architect, Parker Rodriguez, and will feature unique streetscapes which will include mosaic artwork and sculptures by artists Paul Story and Deirdre Saunders, as well as a park that will be used for community events.
Pre-leasing efforts will begin on April 16th with move-ins slated to begin June 15th. To preview floor plans, receive pricing, and learn about this new community, prospective residents are invited to visit the leasing office located at 5 Choke Cherry, Suite 180 Rockville MD 20850 or you may call 301.926.8045 to schedule an appointment with a leasing associate. Additional details can be found at http://www.gables.com/upperrock.
# # #
About Gables Residential
With a mission of Taking Care of the Way People Live, Gables Residential has received national recognition for excellence in the management, development, acquisition and construction of luxury multi-family communities in high job growth markets. Gables Residential owns, develops and manages multi-family communities and mixed-use developments in Atlanta, Austin, Dallas, Houston, South Florida, Southern California, and metropolitan Washington, D.C. Additionally, it has third-party management operations in the Chicago, New York, Boston, Phoenix, Central and North Florida, and Washington State markets. Gables Residential enjoys a healthy portfolio with approximately 37,000 apartment homes under management, including a corporate-owned portfolio of 55 stabilized communities comprising approximately 14,400 apartment homes. An additional 7 communities are under development/lease-up, comprising approximately 2,000 apartment homes. Gables also has the ability to develop another 2,000 apartment homes through its shadow pipeline of undeveloped land owned. For more information please visit http://www.gables.com.