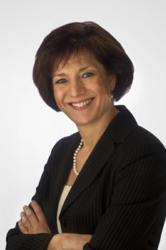 I've been in the court reporting business for most of my career, so it feels great to be reunited with my sons in a business we all love and are passionate about.
Washington DC (PRWEB) April 12, 2012
Planet Depos LLC, a leading international reporting company with principal offices in the Washington DC metropolitan area, announced today that it has appointed industry veteran Lisa DiMonte as its Chief Executive Officer.
Planet Depos, which was launched in 2009 by Ms. DiMonte's three sons, Joseph, William and Nico, is one of the fastest growing companies in the reporting industry. With its headquarters in Washington DC, Planet Depos offers full-service litigation support around the world. Bill DiMonte proudly announced, "With the appointment of my mother, Lisa, as CEO, Planet Depos is now positioned to reach even greater heights. Lisa will focus on strategic planning and implementation and supporting expansion of our product and service offerings."
Ms. DiMonte is returning to the reporting industry after several years during which she served as CEO to MyLegal.com, an Internet company that helps lawyers find and vet legal service providers around the globe. Ms. DiMonte has 34 years of experience in the legal industry, both as the founder of her own court reporting service and also as an executive with another international court reporting business. As the newly named CEO of Planet Depos, Lisa remarked, "I've been in the court reporting business for most of my career, so it feels great to be reunited with my sons in a business we all love and are passionate about."
A business built on customer service
Planet Depos has built its business based on a strong work ethic, outstanding customer service, and emphasis on technology, all of which distinguish it from the competition. Ms. DiMonte stated, "Since my return to the reporting industry, I hear over and over that my sons have done an amazing job with their company … that they are dependable, reliable, honest and humble. It's a proud moment whenever I hear these types of accolades about my sons. What makes Planet Depos different is that they really care about their clients and personally ensure that every detail is taken care of and that each task is done right the first time."
Commenting on what differentiates Planet Depos, Joseph DiMonte remarked, "For everyone at Planet Depos, we're never really off duty. We answer our phones 24 hours a day, seven days a week, which is essential because we routinely have depositions taking place around the globe. We never say 'no' to our clients and we provide value by assuming responsibilities so that they can go on to their next task."
Nico Dimonte added, "Our clients know that when they hang up the phone with us, the job will be done correctly. We know the business well and can anticipate client needs, which ensures a seamless process and reduces the time our clients have to spend requesting services … and we continually implement the latest technology in support of our clients' objectives."
Adding another layer of depth and expertise
The DiMonte sons predict that the addition of Ms. DiMonte to the Planet Depos executive team will result in even greater opportunity and growth for the firm. Bill observed, "Lisa is a highly regarded and experienced leader in the reporting industry, and her expertise and experience gives our company a major advantage. Her reputation within the legal community gives lawyers confidence in relying on us as their resource, not only for all of their court reporting needs, but also in supporting many other aspects of their litigation practices." Ms. DiMonte added, "I look forward to bringing my leadership and experience in this industry to the dedicated team at Planet Depos. Together we will continue the strong growth and success of this company."
About Planet Depos
Planet Depos is an international court reporting service that provides world-class court reporting and related services throughout the United States and abroad. Delivering above and beyond client expectations is the essence of Planet Depos and the heart of what we provide every single day. Our mission is to offer solutions that deliver value to our clients.