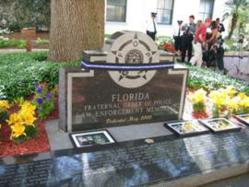 Palm Coast, FL (PRWEB) April 12, 2012
Flagler County – The Port Orange-based law firm of Rue & Ziffra will sponsor the 2012 Law Enforcement Memorial Ride on April 21 in Flagler County.
The annual event, which is presented by Flagler County Blue Knights Chapter XXII, is a fundraiser for the Law Enforcement Memorial in Washington, D.C. and Team Feed Flagler, according to David Sweat, a partner in the personal-injury firm who will be participating in the ride.
"We're always very excited to help put on this event as it honors all law enforcement officers who have given their lives to protect us and our way of life," Sweat said.
Registration – at $15 for bikers and $10 for passengers – begins at 9:30 a.m. and includes a barbecue lunch, live entertainment, raffles, door prizes, and commemorative t-shirts.
The 75-mile, police-escorted ride starts at 11:30 a.m. at Flagler County Government Services, 1769 E. Moody Blvd., in Bunnell, and meanders through Flagler County ending with a celebration at the Bulow Plantation RV Resort, 3345 Old Kings Road South in Flagler Beach.
For more information, or to sign up for the ride, visit http://www.rueziffra.com/law-enforcement-memorial-ride-2012 or call 386-788-7700. In the event of rain, the ride will be held April 22.
About Rue & Ziffra: Founded by John D. Rue and Allan L. Ziffra, the personal-injury law firm of Rue & Ziffra has served the Central Florida community for 30 years. The firm's commitment to its profession and its clients has earned it a reputation as one of the top personal-injury law firms in Central Florida. Known for handling everything from automobile and motorcycle accidents to medical malpractice, wrongful death, and social security and disability cases, Rue & Ziffra has recovered millions of dollars for injured clients and their families. With a staff of nine attorneys, the firm maintains offices in Port Orange, DeLand and Palm Coast. For more information, visit http://www.rueziffra.com/motorcycle-accidents
For more information about this release, please contact:
Allan L. Ziffra, President, Rue & Ziffra P.A., 386-788-7700 or aziffra(at)rueziffra(dot)com
Jessica Eckelbarger, Marketing Manager, Rue & Ziffra, 386-788-7700 or jessicae(at)rueziffra(dot)com
Charlene Hager-Van Dyke, Larry Vershel Communications, 386-532-8862, 407-644-4142 or chagervandyke(at)yahoo(dot)com