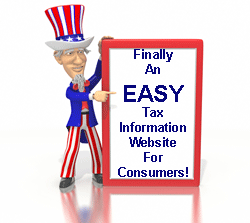 Olney, MD (PRWEB) April 12, 2012
For consumers not feeling the love from the IRS anymore because they stopped mailing printed tax forms or others who feel like the IRS and the major tax preparers are pushing them to - E-file - their tax returns, there is an alternative and they don't have to cave.
A lot of folks still find the online processing world confusing or scary or just like doing things the old fashioned way. There are 10's of millions of people who could fit in to that category. Many people share concerns about online banking and sending very sensitive data over the internet like personal tax information; yet others are fine with it. In fact, there have been recent reports in the news of scammers using other peoples social security numbers to fraudulently submit false tax returns in order to obtain tax refunds.
These consumers don't need to fret as it's not likely the IRS will eliminate paper tax forms anytime soon. So if people still want a sacred place where they can download, complete and print their most basic tax forms and then mail them back to the IRS, they can simply go to Easy-Tax-Information.com .
Easy-Tax-Information.com (ETI) is an easy to follow website that includes very basic information about taxes and also provides numerous basic resources to get users through the tax filing process. The ETI host is a little guy named Tony the Tax Man and he's here throughout the site, pointing things out and providing tax tips or tax quotes and he even tells a decent joke now and then. Whatever someone is looking for, Tony tries his very best to make the site very easy to use to find the tax information most people are looking for. If a user doesn't find what they're looking for, there's even a search box to help find it.
Consumers can find info from basic tax information to State and Federal tax forms to tax calculators and even links to State and Federal TAX refund status information for all 50 states! If needed, they'll even find the IRS payment address to mail a tax return – with or without a payment – based on the state they live in. Maybe someone needs a specific IRS phone number or wants to apply for an Employer Identification Number (EIN), or they want to learn about tax liens and tax deeds; it's all there. Those who may be looking for states to retire in where they have no income tax or no sales tax – or what property taxes might be like in any of the 50 states - can also find that information, or links to it at ETI. Yep, it's there.
How much can be deducted for the miles driven last year at a sales job in 2011 or this year in 2012? Yep, it's there; it is, and it's easy to find too.
Old fashioned folks can check it out and while they're there, they can even challenge themselves to try and find President Grover Cleveland on the $1000 bill. The website address is http://www.Easy-Tax-Information.com . By the way, for those that do ultimately cave or are not so old fashioned after all, they can also find ways to E-File their taxes from ETI too; yep, we offer that option too!
About Easy-TAX-Information.com :
Easy-Tax-Information.com was founded in 2011 by Bryan Kerrigan of Olney, MD. Mr. Kerrigan is a former National Directory Assistance Product Manager who enjoyed the challenge of taking discombobulated information and organizing it in to a directory of sorts that is very basic and easy to use. Easy-Tax-Information does not dispense any tax advice and refers all users of the website to check with a professional tax accountant and/or tax attorney regarding any tax advice or recommendations needed that may affect their personal tax situation. More information is available via email at easytaxi(at)easy-tax-information(dot)com .