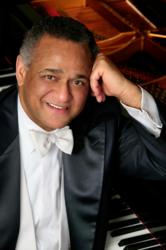 Baltimore, Md. (PRWEB) April 13, 2012
Music Director Marin Alsop will lead the Baltimore Symphony Orchestra and Grammy Award-winning pianist André Watts in Rachmaninoff's Piano Concerto No. 2 on Thursday, May 10 at 8 p.m., Friday, May 11 at 8 p.m. and Sunday, May 13 at 3 p.m. at the Joseph Meyerhoff Symphony Hall and Saturday, May 12 at 8 p.m. at the Music Center at Strathmore. May is pianist month at the BSO, with André Watts as the second pianist in a lineup that includes Leon Fleisher and Jonathan Biss. Watts will be performing Rachmaninoff's jubilant second piano concerto, which affirmed the composer's stature in the classical music arena after the tragic premiere of his first symphony. Also on the program is Elgar's Symphony No. 1, widely considered the first great English symphony ever written. Please see below for complete program details.
When Grammy Award-winning pianist André Watts last appeared with the BSO in 2010, his performance of Beethoven's Piano Concerto No. 5 "Emperor" was said to have "great power, but also a kind of twinkle-in-the-eye exuberance" (Baltimore Sun). Watts returns to the BSO this season to perform the second piano concerto of late-Romantic composer Sergei Rachmaninoff. Four years before he penned his Piano Concerto No. 2, Rachmaninoff was hiding under a stairwell with his hands over his ears, as a presumably drunken Alexander Glazunov conducted the tragic premiere of Rachmaninoff's first symphony. The composer said it was "the most agonizing hour of my life" and music critic/composer César Cui said in his review that Rachmaninoff's symphony "would have brought ecstasy to the inhabitants of hell." For the next three years, Rachmaninoff wrote nothing, battling not only writer's block, but also severe depression, alcoholism and an overwhelming fear of failure. With the help of Dr. Nikolai Dahl, a specialist in behavioral hypnosis, Rachmaninoff overcame all these obstacles and saw tremendous success with the premiere of his second piano concerto. When the piece was published, it included a dedication to Dr. Dahl.
Although he only completed two symphonies, Elgar wrote them with great attention and care. Standing at the summit of the composer's achievements, his first symphony begins with a rather lengthy opening theme. In an air of noble simplicity, this theme becomes the motto for the entire piece. When it makes its final return in the finale – in the original key and employing all forces of the orchestra – it offers a conclusion of both triumph and splendor.
Marin Alsop, conductor
Hailed as one of the world's leading conductors for her artistic vision and commitment to accessibility in classical music, Marin Alsop made history with her appointment as the 12th music director of the Baltimore Symphony Orchestra. With her inaugural concerts in September 2007, she became the first woman to head a major American orchestra. She also holds the title of conductor emeritus at the Bournemouth Symphony in the United Kingdom, where she served as the principal conductor from 2002-2008, and is music director of the Cabrillo Festival of Contemporary Music in California.
In 2005, Ms. Alsop was named a MacArthur Fellow, the first conductor ever to receive this prestigious award. In 2007, she was honored with a European Women of Achievement Award, in 2008 she was inducted as a fellow into the American Academy of Arts and Sciences and in 2009 Musical America named her "Conductor of the Year." In November 2010, she was inducted into the Classical Music Hall of Fame. In February 2011, Marin Alsop was named the music director of the Orquestra Sinfônica do estado de São Paulo (OSESP), or the São Paulo State Symphony Orchestra, effective for the 2012-13 season. Ms. Alsop was named to Guardian's Top 100 Women list in March 2011. In 2011 Marin Alsop was named an Artist in Residence at the Southbank Centre in London, England.
A regular guest conductor with the New York Philharmonic, The Philadelphia Orchestra, London Symphony Orchestra and Los Angeles Philharmonic, Ms. Alsop appears frequently as a guest conductor with the most distinguished orchestras around the world. In addition to her performance activities, she is also an active recording artist with award-winning cycles of Brahms, Barber and Dvořák.
Marin Alsop attended Yale University and received her master's degree from The Juilliard School. In 1989, her conducting career was launched when she won the Koussevitzky Conducting Prize at Tanglewood where she studied with Leonard Bernstein.
André Watts, piano
André Watts burst upon the music world at the age of 16 when Leonard Bernstein chose him to make his debut with the New York Philharmonic in their Young People's Concerts, broadcast nationwide on CBS-TV. Only two weeks later, Bernstein asked him to substitute at the last minute for the ailing Glenn Gould in performances of Liszt's E-flat Concerto with the New York Philharmonic, thus launching his career in storybook fashion. More than 45 years later, André Watts remains one of today's most celebrated and beloved superstars.
A perennial favorite with orchestras throughout the US, Mr. Watts is also a regular guest at the major summer music festivals including Ravinia, the Hollywood Bowl, Saratoga, Tanglewood and the Mann Music Center. Recent and upcoming engagements include appearances with the Philadelphia and Minnesota Orchestras, New York and Los Angeles Philharmonics, and the St. Louis, Atlanta, Detroit, Dallas, Cincinnati, Houston, Baltimore, Indianapolis, Seattle and National symphonies among others.
André Watts has had a long and frequent association with television, having appeared on numerous programs produced by PBS, the BBC and the Arts and Entertainment Network, performing with the New York Philharmonic, Boston Symphony, Philadelphia Orchestra, Mostly Mozart Festival Orchestra and the Chamber Music Society of Lincoln Center among others. His 1976 New York recital, aired on the program Live From Lincoln Center, was the first full length recital broadcast in the history of television and his performance at the 38th Casals Festival in Puerto Rico was nominated for an Emmy Award in the category of Outstanding Individual Achievement in Cultural Programming.
Mr. Watts' extensive discography includes recordings of works by Gershwin, Chopin, Liszt and Tchaikovsky for CBS Masterworks; recital CDs of works by Beethoven, Schubert, Liszt and Chopin for Angel/EMI; and recordings featuring the concertos of Liszt, MacDowell, Tchaikovsky and Saint-Saens on the Telarc label. He is also included in the Great Pianists of the 20th Century series for Philips.
A much-honored artist who has played before royalty in Europe and heads of government in nations all over the world, André Watts was selected to receive the Avery Fisher Prize in 1988. At age 26 he was the youngest person ever to receive an Honorary Doctorate from Yale University and he has since received numerous honors from highly respected schools including the University of Pennsylvania, Brandeis University, The Juilliard School of Music and his Alma Mater, the Peabody Conservatory of Johns Hopkins University. In June 2006, he was inducted into the Hollywood Bowl of Fame to celebrate the 50th anniversary of his debut (with the Philadelphia Orchestra).
COMPLETE PROGRAM DETAILS
Special Event: André Watts Plays Rachmaninoff
Thursday, May 10, 2012 8 p.m. – Joseph Meyerhoff Symphony Hall (JMSH)
Friday, May 11, 2012 at 8 p.m. – JMSH
Saturday, May 12, 2012 at 8 p.m. – Music Center at Strathmore
Sunday, May 13, 2012 at 3 p.m. – JMSH
Marin Alsop, conductor
André Watts, piano
Rachmaninoff: Piano Concerto No. 2
Elgar: Symphony No. 1
Tickets range from $25 to $108 and are available through the BSO Ticket Office, 410.783.8000 or BSOmusic.org.
###