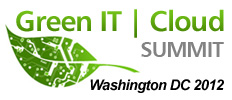 Herndon, VA (PRWEB) April 12, 2012
The Green IT Council is proud to announce another speaker for the Green IT and Cloud Computing Summit 2012.
Derek Schwartz has over 18 years of hands on experience creating and implementing Data Center, Real Estate & Energy Efficiency Solutions for Federal Organizations, Financial Services, Insurance, Tech Giants, Entertainment, and Utility clients. Mr. Schwartz has worked with dozens of Fortune 100 firms on Data Center optimization and best practices implementations.
Mr. Schwartz is currently an employee of SRA International as their Data Center & Green IT Practice Lead. His responsibilities include developing solutions direction, creation, client acceptance and program management of implementations. In this role Derek is tasked with opportunity creation, Technical Lead/Solutions Architect and Program Delivery Manger.
About the Green IT Council
The Green IT Council is a non-profit initiative started by leading experts in the IT Industry. The purpose of the Green IT Council is to educate IT professionals, managers, and government on the need for eco-friendly technology. The council works with leading experts to determine a standard for Eco-friendly technology, and the true environmental impact. It recognizes and awards companies showing a forward thinking view of technology and its environmental impact. http://www.greenITcouncil.org
For more information contact:
Shirin Chase
schase(at)greenitcouncil(dot)org