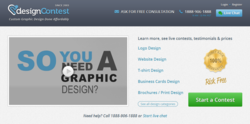 The new-look website focuses on usability and accessibility with intuitive navigation for both clients and designers
Marina Del Rey, CA (PRWEB) April 11, 2012
Primarily aimed at providing the best service and quality to anyone needing affordable custom design, whilst also helping over 42,000 designers hone their skills, DesignContest.com is one of the world's leading crowdsourcing custom graphic design sites.
The key aim of the makeover is to improve the ease of navigation and enhance the user experience for both clients and designers visiting the site. "The new-look website focuses on usability and accessibility with intuitive navigation for both clients and designers at any stage of the Design Contest process," said Sergey Epifanov, DesignContest.com's founder, "At the backend of the site, the hardware infrastructure has also been majorly upgraded to providing faster processing power which allows for a more efficient experience, even if there are many simultaneous visitors on the site."
Customer testimonials, case studies and winning designs are featured on all new landing pages, so clients can easily see the great results available at DesignContest.com. "We are always striving to have the most satisfied clients and happiest designers of any custom design site on the net," said Sergey Epifanov, DesignContest.com's founder.
Established in 2003, DesignContest.com connects with small business owners in need of a new design, such as a logo, with designers looking for new clients. Functioning as one of the most successful graphic design crowdsourcing sites, it allowed clients to offer monetary prize amounts and then select a winning design from hundreds of custom created submissions. Clients can choose from 13 different design categories including logos, websites, business cards and custom t shirt design packages. Additional upgrades are available to enhance the contest, including the very popular blind contests and hidden contests.
For more information or to start a professional graphic design contest, visit http://www.DesignContest.com or call 1-888-906-1888 from 8am – 8pm GMT or 8am – 8pm EST, Monday through Friday.