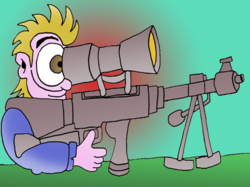 You can't study properly unless you know what you're trying to accomplish. These score generators are a simple way for students to set more solid, realistic goals.
New York, New York (PRWEB) April 12, 2012
As competition for college admission becomes more heated, students need ever-higher SAT and ACT scores to improve their chances of admission. As a result, the test prep market has exploded, surpassing revenues of $3.5 billion in 2011, with sales predicted to reach $4.5 billion by 2016. In an attempt to clear confusion and make the process easier for American high school students, Test Prep Authority, a free, online SAT and ACT resource center, has just launched a proprietary SAT and ACT score generation software intended to clarify score goals and point students and their parents in the right direction.
"There's no real point in studying if you don't have a goal," says Anthony-James Green, president of Test Prep Authority and widely considered on of the best SAT tutor s in New York City. "How can students gauge their progress when they don't even know what they're trying to accomplish? We built our score generator software to give students a solid target and to help them figure out where they are and where they need to be."
The SAT and ACT score generators created by Test Prep Authority work very simply. Students simply enter their target colleges (up to five), their current SAT scores, and the date of the SAT or ACT which they plan to take. The score generators, which run from a database containing the average test scores of almost every college in the nation, then provide students with the following information:
1. What scores each of their dream colleges expect, broken down by section.
2. The average scores, broken down by section, that they need to achieve to compete for acceptance at their dream schools.
3. How many points they need to improve by, per section, each week in order to reach their goals.
"This information might seem really simple, but that's the whole point," says Green of the results produced by the score generator software. "People who aren't familiar with these tests often get mired in the specifics; as a result, they lose focus on the big picture. If someone wants to improve his SAT score, the first question he should be asking is: "what scores do I need in the first place?" The only reason people study for these tests is to get into college. Therefore, I find it surprising that so few students realize what scores their target colleges expect."
One of the most pleasant side effects of the new software is the "kick in the pants" that students receive when they try to use it in the first place. In order to use this software, students need to know which colleges they want to apply to, what their current SAT and ACT scores are, and when they're planning on taking these exams. According to Green, these three pieces of information are the cornerstones of any effective test prep program.
"If a student knows where he is, where he's trying to go, and how much time he has to get there, he's going to achieve his goals much more realistically," says Green of the software's primary purpose. "We paid to get these score generators developed so that more students could stand a chance of getting the score they need. Once a student knows precisely what score she wants, why she wants it, what she needs to improve to get it, and what her time-frame is, she's going to be a machine."
According to feedback from Test Prep Authority's contact page, one of the most unexpected benefits of the software is improved motivation. "Lots of students have already told me that, because they used the software, they felt more purpose as they studied. As a result, they feel more motivated and end up working harder. As far as I'm concerned, there couldn't be a better piece of feedback."
Test Prep Authority hosts two generators, one for SAT scores and one for ACT scores, both of which are totally free to users. Students can visit the score generator homepage by visiting Test Prep Authority's website here:
http://www.testprepauthority.com/sat-score-generator
Students are also encouraged to use the software as a free research tool. By plugging in one college at a time, they can figure out what the average scores of each college in the country are, broken down by section. Students who don't have a current SAT or ACT score, or who don't know when these tests are offered, will be guided through the process via links in the software.
###