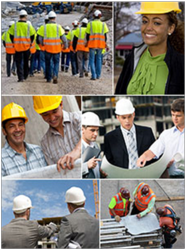 Construction Connection's database of thousands of experienced, qualified construction workers and professionals is just one resource in the site's vast array of networking and educational resources for the entire construction industry."
Dallas, TX (PRWEB) April 13, 2012
The unique, patent-pending job matching system of Construction Connection has produced another hiring success. Pulliam Construction Management, Inc., based in Wylie, Texas, recently posted an available job opening to the growing online construction industry community at ConstructionConnection.com. In less than one week, Pulliam Construction was matched with and hired Jennifer Holland, one of the over 32,000 registered members at ConstructionConnection.com. The job match and subsequent hiring has both the company and Holland distinctly impressed with the ease, efficiency, and unique specialization of the Construction Connection system.
Toni Pulliam of Pulliam Construction expressed appreciation of the hands-on approach Construction Connection took to assisting her in finding the perfect hire. Suzanne Breistol, co-founder of the Construction Connection network, personally aided Pulliam in setting up their company profile and searching for candidates. Pulliam was so impressed with the helpfulness and simplicity of the online job match system that she opted to place another open position for a Project Manager online with Construction Connection.
After disappointing search experiences with a temp placement agency and a generic job search site, Holland was amazed at the organization and simplicity of Construction Connection. The site allowed her to list her specific construction industry experience and qualifications and quickly matched her with a perfect job opening. Holland also expressed satisfaction at the "perfect" match with her new job at Pulliam.
Hundreds of construction companies, recruiting professionals, and staffing agencies have successfully made hiring and business-to-business connections using Construction Connection's job matching system. Construction Connection's database of thousands of experienced, qualified construction workers, tradesmen, and professionals is just one resource in the site's vast array of networking and educational resources for the entire construction industry. Construction Connection also offers a preferred vendor partners program, Construction Connection Radio, the latest in construction industry news, toolbox talks, safety tips, and much more.
Construction Connection was created out of a need for a more effective and streamlined way for construction industry professionals to get matched with the right industry jobs and with the right industry opportunities. The partners of Construction Connection, both industry professionals themselves, listened to both company and individuals' dissatisfaction with the traditional job boards, the paid resume blasts, the overpriced resume services and overall lack of sympathy toward the individual candidate. We also listened to the dissatisfaction from companies who post jobs only to get many irrelevant results or having to purchase high priced ads to showcase their company. Construction Connection is a patent-pending, one-of-a-kind profile creating / match-making system. The system delivers effective results. Construction Connection saves you time, money and aggravation by matching people to people, people to companies, companies to people, and company to company.