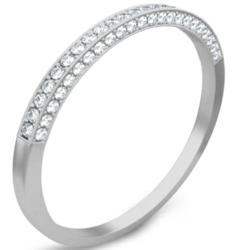 By offering layaway payment plan, JewelOcean.com makes it easier for customers to purchase diamond jewelry
Cockeysville, MD (PRWEB) April 12, 2012
In today's tough economic climate, saving up for a wedding ring might just be one of the most difficult things for the average American couple to consider; fifty dollars that should have been saved for the perfect engagement ring ends up being blown quickly on a family meal or the movies. This is why jewelocean.com has decided to offer their customers a layaway program on engagement rings and jewelry purchases, so they don't have the temptation to spend their wedding based savings on things that will be forgotten in a week and can in turn purchase a beautiful token of their love that will last forever.
Jewelocean.com's layaway program for diamond rings couldn't be any easier. The customer must simply pick out the item they find suitable, make a 10% deposit on the item, then a username and password is emailed to them so they can make more payments whenever they want. Customers aren't restricted to paying once every month, they can pay as many or few times as they want, just as long as they pay off the entire balance within six months.
Once a customer enrolls in the layaway payment plan, their wedding rings are put aside. Jewelocean.com does not sell that item to anyone else. Once the customer's layaway account balance is at zero, the item is mailed to them as soon as possible, no matter how much time has elapsed in the six months they had to pay. Customers are completely free to cancel their layaway plan at any time, but should be aware that since jewelocean.com starts production on the customer's order, and face processing and administrative charges including credit card transaction charges, jewelocean.com would charge a fee of 14% of the purchase price.
JewelOcean.com is a leading online jewelry retailer, specializing in retailing diamond engagement rings at affordable and cheap prices. All purchases on the website come with guarantee certificate, with refund policy and lifetime warranty options. Customers interested in looking at jewelry layaway plan should visit JewelOcean.com.