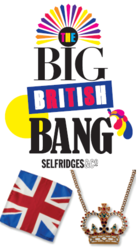 London (PRWEB UK) 13 April 2012
To mark 2012 which promises to be the most memorable year of the new millennium so far for Great Britain, Selfridges is about to launch the biggest display of retail theatre and in-store excitements of its 103-year history.
From Friday 4 May and running until the end of August, Selfridges will present The Big British Bang, a mash-up of British culture, history and tradition, from iconic to eccentric and from royals to rebels. Spanning the Jubilee-Olympics period, Selfridges' British Big Bang will collide exclusive products, events and special initiatives together to celebrate all that Great Britain does like no other nation on earth including etiquette, humour, customs, fashion, art, sports, food – even marmite!
The Big British Shop
From 4 May, the Concept Store (in Selfridges' Wonder Room), will be the ultimate destination for products ranging from fashion to food, irresistibly loaded with British character especially created for Selfridges by some of the most iconic British brands.
From Union Jack-lined Barbour jackets, to a new range of Fred Perry Polo shirts designed by artist Peter Blake and bespoke navy blazers with Union Jack embroidered motif by Gieves & Hawkes. Also included are hand-knitted striped hunting socks by Emma Willis and her hand-finished, proper British boxer shorts. Many traditional British wares with flair and impeccable pedigree will be available.
However, modern Britain will be there too. From Mulberry with a Union Jack-embellished version of its Bayswater hit bag, to Rupert Sanderson's red white and blue strap heels or Nicholas Kirkwood's crazy pearly queen six-inch heels and even Ted Baker offering an accessories collection with typically English halcyon days references.
Many more brands including Penhaligon's, Mr Wingate, Tom Dixon, Emma Bridgewater, have created special designs for the Selfridges' Big British Shop.Vivienne Westwood completes the starry line up of British fashion designers by designing a series of windows for the store.
And just to make sure all key British staples are within shopping distance – love them or hate them! - Marmite, Branston pickle, Hellmann's mayonnaise, Tate and Lyle golden syrup and many other iconic mainstream brands (and some rarer ones), will grace Selfridges' Big British Shop as prime purveyors of a quintessential British experience, albeit gustative.
The Big British Bang Calendar

The Big British Shop – Dress, Eat And Live Like A True Brit (May – late August, Selfridges London )
Celebrating The Jubilee (4 May – mid June, Selfridges London)
The Tiara Shop
The Queen Shop And The Dents Exhibition Of Historic Royal Gloves
The Big British Tea Party – Experience The Highest Tea on Oxford Street and Crazy Golf – All On Selfridges' Rooftop, London: The tradition of British afternoon tea is revamped Selfridges' style with the launch of The Big British Tea Party, serving 'the highest tea on Oxford Street' from a tea shop on the London store's rooftop. (31 May - 2 September)
Britannica – A Fashion Exhibition: Selfridges has commissioned fashion lecturer and experimental exhibition-maker Judith Clark to take a fresh look at style in the fifties. (4 May – 10 June, The Ultralounge – Selfridges London)
The Big Yellow Shop (4 May – end of August, Selfridges London)
The Big British Bang Windows: Comedic vignettes will mash together high society and low brow culture, think royalty meets rebellion (4 May – 10 June, Oxford Street and Duke Street)
Selfridges' Take on the Olympic Games – The Urban Survival Backpacks: Selfridges is championing the cause of those who will want to stylishly survive the Olympic Games by staying in London and taking in the fun but none of the stress. (Mid June – end of August)
The Big British Bang In Store Entertainment: Selfridges will bring together under one roof (and across its four stores) some of the walking and talking symbols of British culture. (2 weeks during the Jubilee & 2 weeks during the Olympics)
About Selfridges
Voted "Best Department Store in the World" at the Global Department Store Summit in New York, Selfridges London is a national institution with the most famous shop windows in the world. The Manchester and Birmingham stores bring the same creative customer experience and now Selfridges.com is positioned to create some magic online.
Across every single department, from food to fashion, home to beauty, Selfridges sets the standard for up-to-the-minute style, lasting quality and exceptional customer service, all with a dose of creativity, wit and flair.
What products can Selfridges offer? There's a unique experience for every customer at Selfridges.com. Whether you're looking for the latest designer fashion, must-have labels, designer women's handbags, luxurious skincare, makeup or dresses. Selfridges stocks the most-wanted brands such as Longchamp, Ralph Lauren shoes, Stella McCartney, Vivienne Westwood and Tag Heur designer watches alongside old favourites and world-exclusive products.
For more information, visit selfridges.com