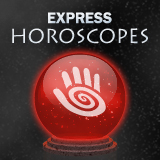 KANSAS CITY, MO (PRWEB) April 12, 2012
Leading mobile application developer, Handmark®, in conjunction with Universal Uclick, has announced the release of a major update for Express Horoscopes for Android. Express Horoscopes is now the only application for Android that offers the astrological readings from Eugenia Last, international astrologer, syndicated in over 300 news publications. Express Horoscopes is immediately available for free in Google Play.
Eugenia Last, the "Astrological Ann Landers" guided by the art and science of the stars, helps readers navigate their lives and their loves. Through Express Horoscopes, users have access to Eugenia's daily and weekly horoscope, weekly lovescope, and advice. In addition, users can also customize Express Horoscopes on their home screen to provide instant daily access to their astrological info.
With over 1.2 million user downloads, Express Horoscopes is one of the most popular horoscope applications available for Android. One example of the power of Express Horoscopes:
"I absolutely love your app!!! Tonight, I read my horoscope to my boyfriend and the last sentence of my horoscope said, "Love is in the air," and he smiles one of the biggest smiles I have ever seen on his face! He says, "Wow, those things are pretty accurate, don't you think?" I looked over to say something and he's by my side, ON HIS KNEE, asking me to marry him! I said, "YESSSSS, OF COURSE, OF COURSE!" I feel like your app gave my soon to be husband that just enough push to ask for my hand! So thank you!" - Victoria, Express Horoscopes user.
About Handmark
Handmark is a leading developer and worldwide distributor of mobile applications and services. With more than 12 years of mobile experience, the company has a rich history in creating many of the industry's top downloaded apps including Pocket Express, TweetCaster, and FriendCaster. Follow Handmark on Twitter and Facebook or, for more information, visit http://www.handmark.com.
About Universal Uclick
Universal Uclick is the world's largest syndicate of comics, editorial features and puzzles/gaming entertainment including Dear Abby, Dilbert, Doonesbury, Garfield and Peanuts. Founded in 1970, the company has attracted and distributed some of the world's most recognizable brands and renowned talent, characters and creators that consumers love to follow on a daily basis. The company's multi-media reach includes print, digital and mobile content. For more information, visit http://www.UniversalUclick.com.