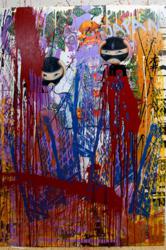 This Saturday will allow people to see a new side of Miguel Paredes' most celebrated character, The Pulgha.
Miami, FL (PRWEB) April 12, 2012
Miami-based pop and multi-media artist, sculptor, and urban realist, Miguel Paredes, invites guests to his newest exhibition at the Miguel Paredes Fine Art Gallery in the Wynwood Arts District on April 14th 2012 from 5-11pm.
Paredes will be exhibiting new works from his popular "Pulgha™ & Birds" series along with works from the "New York Stories" collection. Guests will get to experience pieces from all mediums ranging from canvas; fiberglass, metalwork, vinals, and the famous 3D life size "Brownstone Lounge".
Complimentary Perrier, Chivas Scotch, and cigars from American made Cremo Cigars will be on hand while DJ YSL entertains the crowd with her chic exclusive beats.
Guests & Media interested in attending can do so by emailing: RSVP(at)Miguelparedes(dot)com or calling 786.547.1815.
For Licensing & Merchandising or Cross-Promotional opportunities please contact Rachael Luxenberg with the LUX Lionne Agency at 310.463.2541.
Miguel Paredes Fine Art Gallery
173 NW 23rd St Miami, FL 33127
Saturday April 14, 2012
5-11pm
http://www.MiguelParedes.com
Facebook.com/MiguelParedesArt
Twitter.com/ParedesStudios