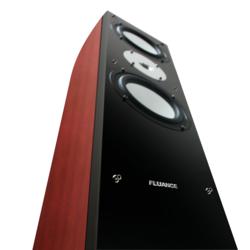 ... XL7F exceeds expectations of any home speaker system, both in sound and value.
Niagara Falls, ON (PRWEB) April 12, 2012
Fluance is proud to announce the first set of speakers in a new product line – the XL7F High Performance Three-Way Floorstanding Loudspeakers with an 8-inch Down-firing Subwoofer. These are not just speakers – they're a lifestyle, and are the perfect complement to audiophiles everywhere.
Building on the success of the Fluance brand, the XL7F offers home theatre enthusiasts and audiophiles superior sound quality with precision craftsmanship. From the highest crescendos to the deepest, smoothest jazz, the XL7F allows listeners to soak up all the dramatic impact that high-definition music and movies can deliver. "The XL7F pushes the limits of superior speaker design with brilliant design and technology," says Deepak Jain, Managing Director. "The high performance of the XL7F exceeds expectations of any home speaker system, both in sound and value." The rich mahogany finish and glossy piano-black front baffle house the superior tweeters, midrange driver and down-firing subwoofer, all together providing owners with a smooth yet powerful, sound that fit into any home theatre setup beautifully.
Fluance sells this speaker set directly for an unbeatable price of only $469.99 at http://www.fluance.com.
About Fluance
Fluance is a North American based speaker brand that produces high-end home theater systems. Established in 1997 and based in Niagara Falls, Ontario, it markets to both USA and Canada. Known for Serious Performance, Fluance prides itself on pushing cutting-edge technology to its limits based on five key aspects: Sound Quality, Solid Construction, Performance, Style, and Value while using only premium components in the construction of its speaker systems. Fluance encourages its customers to buy direct so they can provide their products at a price point well below those of its main competitors. Fluance Speakers can be purchased directly at http://www.Fluance.com.