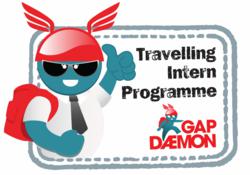 In the current economic climate we see an opportunity to help students from all backgrounds get more out of their planned travel. During the last six months, the programme has been incredibly successful for both Gap Daemon and most importantly the interns
London (PRWEB UK) 12 April 2012
The innovative programme entitled 'Want to travel the world and get paid for it?' is aimed at helping students and young adults travel the world, gaining valuable work experience in new media, journalism and marketing.
For three months, the interns will follow a structured work programme that ensures they are adding genuine value to their CVs and making the job hunt a little easier when back at home.
James Capon, CEO and co-founder, explains why: "In the current economic climate we see an opportunity to help students from all backgrounds get more out of their planned travel. During the last six months, the programme has been incredibly successful for both Gap Daemon and most importantly the interns out there travelling. The output of their efforts is there for all to see, and they are making a genuine business contribution."
Those interested in the scheme can apply through the Gap Daemon website; 50 new recruits will be taken on this month, with a further 100 planned for 2013.
There are currently 11 interns on the pilot scheme, reporting from places as far afield as Sydney, Senegal and San Francisco. With the addition of a further 50, Gap Daemon will be adding a vast resource to its extensive independent travel information and advice site.
With the increase in university tuition fees, plus the lack of employment opportunities for inexperienced young adults in the UK, this is expected to be a highly sought after job opportunity.
Notes to Editors:
Gap Daemon is a community and advice site for gap year travellers where they can meet other backpackers, keep in touch with friends and family, share travel tips and get advice from the experts. Visit the website: http://www.gapdaemon.com