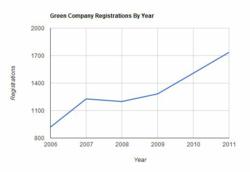 The companies that will flourish in the future are the ones that are being created today with a better understanding of what resources will be available to them, and what society expects from them
Bristol, UK (PRWEB UK) 13 April 2012
The number of "Green" company registrations grew to 186 in March from a previous record high of 166 in February 2012. Also during March 2012 the number of "Recycling" company formations is recorded at 60 from a previous record high of 57 achieved in both September 2011 and March 2010.
The data is gathered using nominative trends in new Limited companies recorded on the public register with Companies House bodies in England & Wales, Scotland and Northern Ireland.
The global warming debate triggered a revised global attitude to environmental responsibility, and this lead to many environmentally focussed businesses as new markets emerged. Whilst that debate continues, Western economies are also coming to terms with growing demand and competition for finite global resources driven by a shift in the buying power of developing nations.
Peter Valaitis, Managing Director of Duport commented: "The world is changing, perhaps more radically and rapidly than any of us can remember. Change is very difficult for established businesses to deal with but that can be fantastic for entrepreneurs. We know so much more about how the world will look in 2015 for instance, then we did a decade ago. The companies that will flourish in the future are the ones that are being created today with a better understanding of what resources will be available to them, and what society expects from them."
What makes a company environmentally friendly is still very difficult to define. It is common for companies that label themselves as "green" to be carbon neutral, often achieved by buying carbon credits to offset the harmful carbon effects created by the operation of that business. It is also expected that a green company would seek to use recycled or sustainable materials and products wherever possible.
The annual total of new Green companies registered has grown year on year since 2008 and with new monthly records set in both February and March of 2012, the growth trend looks set to continue.
Duport Associates Ltd is a leading UK company formation agent, operating in the UK for around 15 years. Duport registers around 10,000 new companies each year using its Companies House approved software. The Company Register which is maintained by Companies House contains public information about Limited companies and directors.