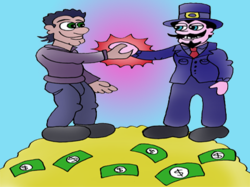 We started giving Vivid Vocab away for free so we could test the product for flaws, but everyone who tries it for free ends up buying it - with that in mind, we've decided to extend the free trial indefinitely.
New York (PRWEB) April 15, 2012
Vivid Vocab, a new SAT and GRE vocabulary software, has decided to permanently offer a free trial to potential users via their website. The trial, which was once meant as a device intended to bring on product testers, has ended up turning into one of the company's most effective sales tools.
"With all the distractions on the web, it's incredibly tough to capture visitors' attention for long," says Anthony-James Green, head developer of Vivid Vocab and president of its parent company, Test Prep Authority. "When users actually try the software, they immediately understand what it does, how it works, and how it'll help to raise their SAT scores. But trying to explain the functionality of the software in the 5 second "attention window" we have from most users is nearly impossible. That's why we put up the free trial in the first place."
Vivid Vocab has a unique approach to teaching students SAT vocabulary words: it creates "association maps" in students brain by "assaulting them" with intentionally bizarre, multi-sensory mnemonics and stories. Rather than have students study flashcards, which create few mental associations and which are notoriously easy to forget, Vivid Vocab develops deep, permanent imagery around each SAT and GRE word's definition.
Take, for instance, the word "benevolent," which means "generous and kind-hearted." Vivid Vocab's software shows users a picture of two men shaking hands atop an enormous pile of money and gold bullion. "When you work for someone benevolent," students are told, "the benefits are prevalent." Students are encouraged to repeat the mnemonic out loud while looking at the image, to listen to an audio clip re-telling the story with the embedded mnemonic, and looking over the word's other features, including "suitable synonyms," "diction discussion," and "explicit examples" (the software's developers clearly have a penchant for alliteration).
The developers of Vivid Vocab initially offered a free trial for a very specific reason: they wanted users to let them know what was wrong with the product. "It's easy to drink the Kool-Aid when it comes to your own software," says Green. "You can spend all day patting yourself on the back, but at the end of the day, the only way you can improve a product is by asking your users what they dislike about it and then ruthlessly fixing those problems." Following this philosophy, Vivid Vocab's founders tried giving away the software to anyone they could in an effort to get as much feedback as they could in the shortest time-frame possible. "It's tough to get people who've never heard of a product to pay for it. It's sort of a chicken-and-the-egg situation, since people aren't going to hear about it until they use it. We figured the best way to short-circuit that whole conundrum was by giving a free trial of the software to anyone who wanted to test it out.
As users started pouring in for the free trial, Vivid Vocab's developers started soliciting them for as much feedback as possible. "We asked them to be brutal," said Green of the process. "Compliments are nice, but we were looking for the searing, really mean stuff. That's what makes the product better." Over the course of a month, users provided Vivid Vocab's developers with plenty of feedback, which the developers started acting on immediately. "People pointed out everything from small typos to broken images," says Green of the process. "We fixed all that stuff up. But what's more exciting is that we got some really great and consistent suggestions for the next edition, such as a "random word" button and a testing module. We'll be adding in all of these features over the next few months."
In the process of extending its free trial, however, Vivid Vocab got something even better: paid users. "Users can cancel at any time during their free trial - all they need to do is shoot us an email. But almost none of them have. As of right now, 95% of the people who sign up for the free trial end up converting to paying customers, and our feedback has been awesome."
Users, who pay $19.95/month for access to Vivid Vocab's learning center, are provided with full access to the 500+ mnemonics offered via the software. As more users sign up, the developers of Vivid Vocab will more quickly be able to add in new SAT words, features, and functionality.
"When a market research tool turns into your biggest sales weapon, you know you're doing something right. With the feedback and the funds from the new user base, we'll be able to keep adding SAT vocabulary words to the site and add in the extra functionality that our users have been requesting. With that in mind, we've decided to keep the free trial on our site for good."
Users interested in trying the Vivid Vocab software can do so by visiting http://www.VividVocab.com. Vivid Vocab was developed by Test Prep Authority, a free online resource for SAT practice and ACT practice problems. The product is the brainchild of Anthony-James Green, a New York City SAT tutor and career test prep consultant.
###