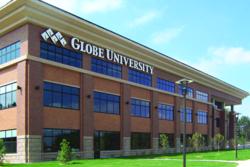 Our 'We Care' philosophy has been a cornerstone of the school's culture from its beginning.
Minneapolis, MN (PRWEB) April 11, 2012
Globe University is cited in the newest edition of author Steve Gilliland's book, "Making a Difference: A Matter of Purpose, Passion and Pride" (Charleston, SC: Advantage, 2011). Globe is listed along with Southwest Airlines, Nordstrom and Marriott—a handful of companies Gilliland recognizes for truly making a difference in their employees' and customers' lives. After visiting several Globe campuses, the author concluded:
"It is evident that the employees not only live their mission statement, they are driven by it. In fact, their entire corporate culture has been built around caring for student success and employee success. It's that commitment for caring that has prepared career-focused, community-minded graduates for the global workforce. What they say in their mission statement is true—'We Care.'"
According to Globe Vice President Kaye Myhre, "Our 'We Care' philosophy has been a cornerstone of the school's culture from its beginning. We Care is directed at three audience groups: we care for our students, we care for our employees, and we care for our communities and the world we live in."
Myhre is also part of the family that owns the private-sector university, which is the only large family-managed university with headquarters in Minnesota.
Students
All students have access to generous scholarship funds, with more than 100 qualifying for $10,000 or more any given quarter. In the latest reporting year—2010–2011— the school awarded more than $10 million in scholarships. Students also receive lifelong career services assistance and support from a campus-based student services department.
Employees
Without skilled and dedicated employees, service to students would be impossible. Deans and faculty members form the linchpin of the school. Employees have the option of earning degrees and taking classes at any of the university's numerous campuses—all free. In 2010–2011 the university gave $6 million in tuition to employees.
Communities
Globe and its sister schools serve the communities where employees and students work, live and go to school. In 2010–2011 students and employees participated in 4,675 community events and invested 38,819 hours toward great causes. Said Elizabeth Ferguson of St. Cloud's ReStore—one recipient of Globe's community outreach—"I'm really in awe of people who give their time to help benefit the community—not just us—the community as a whole."
Steve Gilliland
Author and motivational speaker Gilliland has written several books and presented his inspirational messages around the world, including all 50 U.S. states. In "Making a Difference: A Matter of Purpose, Passion and Pride," he tells the reader about how companies and people can indeed make a difference.
About Globe University
Globe University is part of Globe Education Network (GEN), a family-managed collaborative body of career colleges, universities and training centers based in Woodbury, Minn. Through its mission, We Care, the organization integrates hands-on and career-focused education with service- and applied-learning experiences that expose students to their communities and real-world situations. Globe University is accredited and offers master's degrees, bachelor's degrees, associate degrees, and diplomas in several career fields. More than 30 programs are available online.