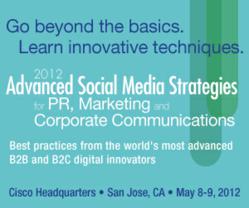 San Jose, CA (PRWEB) April 11, 2012
Cisco and Ragan Communications will a present a conference for social media PR and marketing professionals on May 8th and 9th, 2012. The conference,"2012 Advanced Social Media Strategies for PR, Marketing and Corporate Communications," will be held on Cisco's San Jose, Calif. Campus and will feature case studies from global brands including Cisco, Neiman Marcus, LinkedIn, IBM, Zappos, Xerox and Intel.
Attendees of the conference will hear how to best use social feedback for innovation and product development; how to create an issue response template for social media crises; how to turn brand-detractors into brand-evangelists; how to incorporate gaming into their communications strategy; how to increase SEO using SMO (social media optimization), and more.
This is the third consecutive year Cisco and Ragan have co-hosted this event. Those interested in attending the conference can contact jenny(at)ragan(dot)com. Additional B2B-specific session topics include collaborating with internal and external stakeholders to create a social business, 8 ways to integrate social and digital strategy, and how to increase B2B marketing qualified leads with social media.
Ragan Communications operates two of the top news and information sites for the PR and corporate communications industry —Ragan.com and PRDaily.com. Together, these daily news sites attract nearly 700,000 global visitors. The company also covers the health care and HR communication industry with its daily news sites HealthCareCommunication.com and HRCommunication.com. The Chicago-based company is also the leading provider of conferences and online training to PR, media relations and corporate communications professionals.
For more information on Ragan and Cisco's "2012 Advanced Social Media Strategies for PR, Marketing and Corporate Communications" conference or to schedule an interview with Jenny Fukumoto, please email jenny(at)ragan(dot)com or call (312) 960-4404.
About Cisco
Cisco is the worldwide leader in networking that transforms how people connect, communicate and collaborate. Information about Cisco can be found at cisco.com. For ongoing news, please go to newsroom.cisco.com.