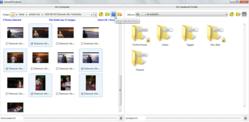 'No longer will it mean setting aside a few hours of your day to update your profile with photos you wish to share, it can be done in an instant. In fact, the hardest part is deciding which photos you wish to upload, which of course is a personal choice.'
(PRWEB) April 18, 2012
Recently launched Facebook APP, allows users to upload up to 1000 high resolution photos with a single click of the mouse. Users can upload their entire photo collection with virtually no effort.
This 100% free Desktop Software Application, allows users to select their photos, press the upload button and let the software work, in a fraction of the time. Also allows users to download photos directly from their Facebook Profile.
It's simple interface, and user friendly layout makes it a popular alternative.
Since its release this week, it has been awarded 5-STAR Rating by the Editors of 6 popular Software Download Sites on the net.
When conducting a comparison of 20 high resolution photos manually (50mb) on Facebook it took about 15 minutes. Using this new APP it took less than two minutes.
With an estimated 800 million users, Facebook is used by a wide audience from teens onwards, and from all different computer skill levels and walks of life. It is now an integral part of people's social lives, and how they engage with their peers. And every day 100 million photos are uploaded directly to Facebook. Accounting to 2.5 million photos uploaded every 20 minutes.
By using app named "Upload2F/B" users will save on bandwidth, time, and effort, allowing them to do more productive things, and yet still share photos with friends and loved ones. With this new software program live, it is expected that a lot more baby photos will be uploaded to Facebook.
With a vast array of Facebook applications available on the market, usually it is in the form of games, polls, and dating APP's, but with very few applications around that improve the Facebook experience other than entertainment.
Having seen the massive potential, the major players in the Software from Google, Microsoft, Adobe, FlickR, Photobucket, and Firefox just to name a few, and have all developed and released software to improve the uploading process, but all had very poor results in relation to the overall market. And their software's are clearly not fit for the masses of Facebook Fans that are looking for a simple solution.
Click here to discover to easy way on How to upload photos on Facebook
Watch the Video Demonstration - Click here