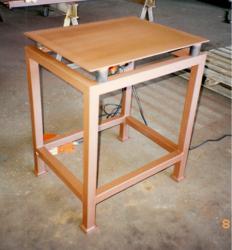 the table can accommodate up to 600 pound concrete projects
Duluth, MN (PRWEB) April 12, 2012
People who enjoy making ornamental and flat concrete works can now build their own vibrating table, thanks to Gizmoplans. The leader in DIY projects is expanding their concrete equipment section by releasing plans on how to build a table for vibrating concrete on their website. With their own concrete vibrating table, people will be able to add a professional finish on items such as garden ornaments, slabs, stepping stones, and statues.
People who work with concrete understand how important it is to remove air bubbles from the material before it sets. A vibrating table is used to loosen those bubbles and allow them to rise to the surface, leading to a concrete finish that is smooth and professional looking. Gizmoplans gives people the ability to build their own concrete vibrating table with easy to read plans at a low cost. The plans are for a table that is 24" wide, 30" long, 36" in height and built with a steel frame and rubber vibration mounts for ultimate stability. Furthermore, the table can accommodate up to 600 pound concrete projects, has a 110 volt – 1PH electrical foot control, is simple to use, and even has an adjustable speed and force so that the user can achieve that smooth finish, regardless of what they are making.
The concrete vibration table plans are easily found within Gizmoplans' concrete equipment tab on their website and include the following:
• Shop layout plans

Actual shop production plans
List of materials, including required stock steel parts, purchased parts and suppliers
with phone numbers
Color photos of finished vibrating table for easy understanding
Individual piece part drawings
The plans for the vibrating table are easy to follow. If someone is looking for a larger table, they will find that they can make adjustments to the plans that will enable them to build one to their specifications. Gizmoplans offers a 100 percent risk guarantee and professional assistance if someone needs advice at any time during the construction process through the internet or by phone. The plans can be instantly downloaded from the web so that users do not have to wait for a shipment. For more information on the concrete vibration table from Gizmoplans and other DIY project plans, visit their website at http://gizmoplans.com/vibrating-table-concrete-vibrating-table.
About Gizmoplans
Gizmoplans is an online informational website that provides businesses and individuals with downloadable DIY solutions. These plans can be used to build projects for recreation, hobbies, recycling, industry, woodcrafts, metal fabrication, alternative energy and much more. Gizmoplans is also a hub for businesses and individuals to upload and sell their own plans, patterns, how-to ebooks and more. This online marketplace can benefit both the purchaser and the seller in the DIY community. To get more information on DIY plans and DIY projects, visit Gizmoplan's website at http://gizmoplans.com/.