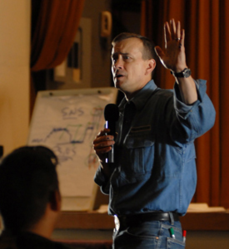 How many students were killed in school fires across North America in the last 50 years? Zero. How many were killed by violence in our schools? Hundreds!
Jackson, WI (PRWEB) April 13, 2012
This month, United States Concealed Carry Association (USCCA) founder Tim Schmidt released a rare and exclusive interview that he conducted with Lt. Col. Dave Grossman. The session is a follow-up to the recent live "BulletProof Mind" workshop led by Grossman, the Pulitzer Prize nominated author, scholar, and soldier, held earlier this year.
During that session, Grossman introduced the concept of the "Sheepdog" and mentioned that how choosing to conceal and carry guns requires mental and physical preparation. The new follow-up interview is in answer to the many questions that were posed about the "BulletProof Mind" training by the members of USCCA.
Lt. Col. Dave Grossman is one of the world's foremost experts in the field of human aggression and the roots of violence and violent crime. Grossman states that now is the time for Americans, whatever their skills, to give 100%. Many Americans are feeling this call, but have been told there is something wrong with them for wanting to conceal and carry guns, when they are in fact Sheepdogs, with a strong desire to protect their flock, their family.
According to Grossman, "Not every sheepdog is on the front line with a rifle." Many are raising other Sheepdogs, teaching them what it takes to be a responsible human being and citizen.
He further explained the concept of the Sheepdog by saying, "They play a vital role in our society by protecting us from Wolves, but this requires training." Some get the training in the military, or as law enforcement officers. Grossman's training consists of 13 steps, that if followed, will prepare anyone who chooses to conceal and carry guns for a violent encounter, so that they survive both physically and emotionally.
Grossman contends the largest threat facing our families in North America is violence because we better prepare for most other unfortunate circumstances. He reminds us that we train to be responsible drivers and we have seat belts in our cars in case of an accident. We also have fire extinguishers, special fire exits, and conduct fire drills to prepare for the event of a fire at home, in the workplace, or in our schools. Grossman asks,"How many students were killed in school fires across North America in the last 50 years? Zero. How many were killed by violence in our schools? Hundreds"
The biggest threat to our safety is the area where we have the least preparation because of our denial. Grossman's point is that denial kills us twice. If we manage to survive the initial violence, we are psychologically killed by the realization there was something that we could have done.
USCCA has released this interview, free of charge. Watch the interview in its entirety at https://www.usconcealedcarry.com/bulletproof-mind-exclusive. Learn more about what it means to be a Sheepdog and how your choice to conceal and carry guns can save the lives of your friends and family.