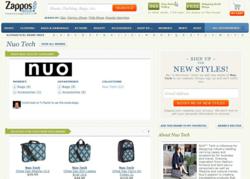 "Zappos.com is a great fit for Nuo products as their strong commitment to customer service has cultivated a base of loyal customers who are very brand conscious and fashion savvy," said Ty Rarick, vice president and founder, Nuo Tech, LLC.
Austin, Texas (PRWEB) April 11, 2012
Mobile accessory company Nuo Tech LLC announced today that the company has gained industry-leading e-tailer Zappos.com as a new customer. The online site is now featuring the Chloe Dao for Nuo Collection that provides women with affordable designer-quality carrying cases for a variety of mobile technology products. The collection is designed by Chloe Dao, winner of Season Two of Bravo's hit TV show, Project Runway. Zappos.com will also carry Nuo's sporty backpacks and messenger bags from the iconic water sports brand Hobie collection.
The addition of Zappos.com and its sister site, 6pm.com, increases Nuo's online customers to more than ten companies ranging from specialty ecommerce sites to industry-leading traditional brick-and-mortar retail brands.
"Zappos.com is a great fit for Nuo products as their strong commitment to customer service has cultivated a base of loyal customers who are very brand conscious and fashion savvy," said Ty Rarick, vice president and founder, Nuo Tech, LLC. "Zappos.com is focused on partnering with the best brands in the industry, both established and emerging brands like Nuo."
Zappos.com has targeted the laptop bags and mobile technology case category as an emerging growth target for the company.
"Having shopped at Zappos.com and seeing all the great brands, it is exciting to be in the same company of so many great designers," said Chloe Dao. "I am thrilled to have my laptop cases and luggage available on Zappos.com as they provide a combination of great customer service and expansive product selections."
To see the Chloe Dao for Nuo Collection and other Nuo products on Zappos.com visit http://www.zappos.com/nuo-tech.
About Nuo
Nuo Tech designs industry leading carrying cases and accessories for laptops, tablets, travel, luggage and many other mobile technology products. We are committed to offering innovative and highly functional product solutions with a focus on fashion and style conscious consumers. Our bags range from classic messengers and protective sleeves to women's totes and exclusive designer brands that stand out in crowd. Drawing inspiration from fashion forward and tech savvy consumers as well as lifestyle and cultural trends, Nuo's passion is creating trendsetting products that are durable, simple, smart, and sophisticated. From our Eco-Friendly Collection to the Dao Chloe Dao for Nuo Collection from Project Runway Winner Chloe Dao for fashionista's on the go, we have the right bag for you. Show your colors, show your style with Nuo Designer Laptop Bags and Mobile Accessories. Learn more and shop online at http://www.shopnuo.com.
About Chloe Dao
After a long ten-month journey, Chloe Dao emerged as the winner of Bravo's Emmy nominated Project Runway 2 on March 8, 2006. Dao won the hearts of America with her mild honest demeanor, consistent display of technical skills, business savvy and creative talent. Dao's reputation for understanding women and their bodies landed her a contract with Dove as their national spokesperson for the "Sleeveless Ready" campaign. Dao reached the masses again in 2008 as she debuted on QVC with consecutive sell-out appearances with her line Simply Chloe Dao, exclusive to QVC. Also in 2008 her effortless style and modern sensibility led her to partner with mobile accessories and travel bag maker Nuo Tech to create a line of fashion forward mobile technology bags and luggage accessories. The Dao Chloe Dao by Nuo Collection is modern, contemporary and most of all fun. The line is available at select retailers nationwide including Staples. Visit http://www.chloedao.com for more information on Chloe and all her fashion collections.
About Zappos.com
Established in 1999, Zappos.com, operated by Zappos Development, has quickly become the leading destination in online apparel and footwear sales by striving to provide shoppers with the best possible service and selection. The Zappos Family generates gross merchandise sales exceeding $1 billion annually. Zappos.com currently showcases millions of products from over 1000 clothing and shoe brands. Zappos.com, Inc. was recognized in 2009, 2010, 2011 and 2012 by FORTUNE MAGAZINE as one of the "100 BEST COMPANIES TO WORK FOR". Zappos.com is also proud to be rated ELITE by STELLAService and was named a J.D. Power 2011 Customer Service Champion, one of only 40 companies so named in the U.S. More information about the customer service philosophy, unique culture, and job openings can be found at http://about.zappos.com. More information about Zappos Insights, and its business membership program can be found at http://www.zapposinsights.com. Zappos.com is a subsidiary of Amazon.com.