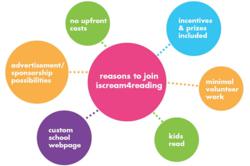 After the financial success of this first year, and hearing about the staggering number of hours kids read over the summer, I can't imagine our school will ever go back to the other fundraisers
Chicago, Illinois (PRWEB) April 13, 2012
iscream4reading, a literacy focused fundraising organization has partnered with SocialRaise, a Chicago-based digital agency on a program that enables schools to focus their funding efforts on student learning. Schools are able to replace or augment their current fundraising efforts with a single program that inspires reading while raising funds.
"After the financial success of this first year, and hearing about the staggering number of hours kids read over the summer, I can't imagine our school will ever go back to the other fundraisers", says Steven Slaughter, a Chicago Public School teacher.
iscream4reading's approach is a turnkey read-a-thon focusing on increasing children's reading time and keeping their minds active during school breaks, while raising funds for their school.
It's extremely easy. SocialRaise creates a custom web experience for each school, empowering them to accept donations, market their fundraiser and track reading hours. iscream4reading provides printed student materials, prizes, marketing tools and support in running the fundraising effort. This approach keeps the process simple for donors, safe for children and is easy to administer.
The benefit of iscream4reading is in the simplicity it provides to schools, parent and teacher organizations and libraries, with no upfront costs and minimal volunteer coordination, while raising funds.
"Many schools are looking for new fundraising ideas and iscream4reading keeps the focus on reading. This makes teachers, parents and kids happy all summer. And while the program is billed as a summer fundraiser, it can be done anytime throughout the year" says Kim Morrow, founder of iscream4reading.
iscream4reading collaborated with SocialRaise to create the new fundraising offering. "SocialRaise brings years of expertise and great technology to the table. They live and breathe fundraising, so it is a natural fit", added Morrow.
SocialRaise focuses on making strategies that come to life online that help nonprofit organizations drive awareness and engagement. By providing innovative fundraising tools, SocialRaise focuses on raising funds and offers constituent relationship management (CRM) tools to track and care for relationships with donors, volunteers, board members and key constituents.
iscream4reading is a Chicago-based organization focused on students, reading and raising! Under the direction of Kim Morrow a former educator, iscream4reading was developed to meet a local school's need to take an educational approach with their fundraising. The program has been widely accepted with great enthusiasm and success.
For more information visit http://www.iscream4reading.com or http://www.socialraise.com or contact us directly.
For more information on SocialRaise:
Suzy Whitfield
suzy.whitfield(at)socialraise(dot)com
312-925-0444
For more information on iscream4reading:
Kim Morrow
kim(at)iscream4reading(dot)com
312-437-6284