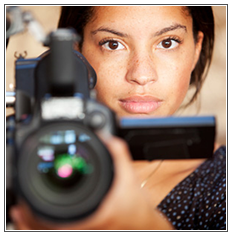 "Innovation comes in many forms and this is just one way we are helping businesses adapt to new technologies."
Gormley, ON (PRWEB) April 11, 2012
Businesses in Canada are about to get a free boost as CanadaOne.com announces that it will give-away up to 30 free business videos valued at $45,000 at the upcoming Office* Canada conference and tradeshow being held in Toronto on April 23 and 24, 2012.
Professionally edited videos, which will be shot in high definition (HD), will be made available on a first-come, first-serve basis to show attendees.
The HD videos will be produced on site and a copy will be given to each participating businesses. The videos will also be uploaded to CanadaOne's Canadian Business Stories YouTube channel, which will launch at the show.
"Innovation comes in many forms and this is just one way we are helping businesses adapt to new technologies," says Julie King, co-founder and managing editor of CanadaOne.com. "We are very excited to be able to help Canadian businesses access newer marketing options, like HD video."
This give-away is part of a year-long celebration of CanadaOne's 15th year in business as a small business magazine and business directory.
"CanadaOne launched on March 3, 1998 and has survived many ups and downs, including the 'dot.bomb' crash of 2000," says King. "We won a national business plan competition for young entrepreneurs in 1997/98 and are still in business because we have been willing to adapt to new technologies and ideas."
"Now our focus is to help other Canadian firms take an innovative approach to adapting their business to changing paradigms. The use of video is becoming very important for businesses, especially since YouTube is now the world's second largest search engine."
King says the decision for CanadaOne to produce free videos at the Office* Canada show was an easy one.
"The two-day show offers us a great opportunity to connect with Canadian businesses," says King.
Nate Bright Sales Director for office* Canada 2012 says the free offer is a great fit with the show.
"Office* Canada's goal is to provide office professionals with access to products and services that are new and innovative, and that help them be more efficient, productive and profitable," says Bright. "The free video service that CanadaOne is offering to small and medium-sized businesses is a perfect example of the cost-saving and high-impact benefits that our attendees will discover at the show."
Videos will be produced on site at the Office* Canada show on a first-come, first-serve basis, with up to 15 videos a day being created. The shooting, editing and final render will take place right on site, so that businesses will be able to take home their videos the day they are created.
CanadaOne is also offering free access to Office* Canada's tradeshow and morning keynote events, as well as 40% off a Full Access Pass, to advanced registrants at http://www.canadaone.com/officecanada.
-30-
About CanadaOne
CanadaOne.com is Canada's premier website for small businesses in Canada, with a free business directory and over 900 articles on how to start, run and grow a business in Canada.
About Office* Canada
The office* Canada 2012 trade show offers attendees a wide-ranging showcase of the latest office supplies and services from leading Canadian manufacturers, suppliers and retailers, and includes a comprehensive conference with three dedicated tracks on Efficiency, Technology and Sustainability. Session topics include: Communication, Influencing Others, Maximizing Productivity, Measuring Ergonomic Efforts, Social Media for Business, Cloud Computing, Sustainability Initiatives and the Green Office and much more.
Media Information or to arrange interviews:
Alexandra DeLory, adelory(at)biz-zone(dot)com, 905-927-0015 x227 or Gail Bergman, Gail Bergman PR Tel: (905) 886-1340 or (905) 886-3345, info(at)gailbergmanpr(dot)com