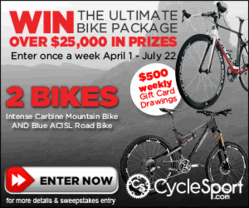 CycleSport.com's Ultimate Bike Giveaway is an extraordinary sweepstakes – the Grand Prize alone is worth nearly $20,000
TUALATIN, OR (PRWEB) April 13, 2012
The first motorcycles were simply bicycles with frame-mounted engines, and the two industries continue to share a number of connections. MotoSport.com's launch of CycleSport.com is an acknowledgement of this long-standing relationship, and CycleSport aims to provide on and off-road bicycle enthusiasts the same level of customer service and unmatched selection available to the MotoSport.com customer.
CycleSport.com's Ultimate Bike Giveaway is an extraordinary sweepstakes – the Grand Prize alone is worth nearly $20,000, with $500 gift cards given away each and every week!
The Grand Prize includes two (2) premium, top-of-the-line bicycles, one road and one mountain bike, both road and mountain bike apparel, high-spec bicycle gear, a selection of valuable riding accessories, and a $1000 CycleSport.com gift card.
Here are the details:
The Road Package - $10,000 value

2012 Blue AC1 SL SRAM RED Road Bike
Look KEO Carbon Pedals
Giro Road Helmet
Castelli apparel set
SIDI Ergo 3 Road Shoes
Blackburn accessories
The Mountain Package - $7,000 value

2012 Intense Carbine XT Mountain Bike
Giro MTB Helmet
Fox and Dakine apparel package
SIDI Dragon 3 Cycling Shoes
Blackburn accessories
In addition to that impressive 'double' Grand Prize, entrants into the CycleSport.com Ultimate Bike Giveaway will also have a chance at a $500 CycleSport.com weekly $500 gift card for which a new winner will be drawn every week throughout the contest.
CycleSport.com's Ultimate Bike Giveaway has two (2) very simple entry methods. Simply enter your details at http://www.cyclesport.com/win for the first entry, then browse over to the CycleSport.com Facebook page (https://www.facebook.com/cyclesportinc) and click on 'Like', and you can enter again.
That means that you can enter twice each week, and each one of those entries is not only a chance at the Grand Prize, but also qualifies you for the weekly $500 gift card drawing.
Get your entries in today!
About MotoSport.com
MotoSport.com was started by a rider who raced in the 1970's and 1980's who was looking for a far more expansive supply of parts and accessories for racers which could be obtained quickly and without the usual hassles and limitations of a dealership. Today, MotoSport has become an industry leader that remains focused on providing our customers with the parts they need when they need them. From start to finish, MotoSport.com is dedicated to providing the best experience, anytime, anywhere. Check them out online at MotoSport.com or call 1-866-677-3571 and join the best customers in the industry.
About CycleSport.com
CycleSport guarantees customer satisfaction. Dedicated to providing the best customer service available in the industry, their sales associates are experienced, dedicated cycling enthusiasts who know and use the products they sell. CycleSport strives to bring customers a great selection at a great price. With fast and free 3-day express shipping for orders $over 99 - the price you see is the price you pay. Don't miss another ride – CycleSport.com loves cycling just like you. Committed to helping cyclists through organizations like the IMBA and People For Bikes, as well as sponsoring riders and events around the country, CycleSport.com supports the cycling industry and constantly evolves to meet their customers' needs. Once you've experienced the CycleSport difference - you won't want to shop anywhere else!