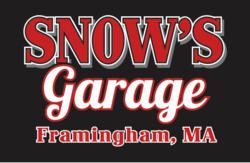 Framingham, MA (PRWEB) April 20, 2012
For more than 100 years, customers throughout the Boston area have relied on the professional auto service found at Snow's Garage. Over the last century, as a family owned business, they have built a solid reputation for honesty, integrity, and fair pricing, and they are happy to announce that their exceptional service is also available for fleet and business vehicles.
Business owners know how difficult it can be to manage and maintain even a small fleet of work vehicles. A fully functioning fleet is vital to a business' service and overall growth as a company. The goal of Snow's Garage is to work closely with business owners and managers to identify the specific auto care needs of each individual business, and then address those needs effectively and affordably.
Snow's Garage offers flexible scheduling, allowing businesses to have their fleets maintained during slow periods, when it is most convenient. Their team of experienced auto technicians will develop repair and maintenance programs that best fit the needs of the business, ensuring their ability to stay in business with a fully maintained fleet of vehicles.
The fleet maintenance services available from Snow's Garage are ideal for a wide range of clients. From local businesses and non-profit organizations to telecommunication companies, local universities, government agencies, and more, any business or group with a fleet of vehicles can benefit from the expertise and proactive maintenance found at Snow's Garage.
About the company:
Snow's Garage was founded in 1903 to service automobiles and was one of the first auto garages established in Framingham, MA. Prior to this, Snow's was a service station for carriages. Over the years as cars evolved, so did Snow's Garage. They purchases Smitty's Towing and began to offer roadside assistance. Today, Snow's Garage continues to honor its tradition of providing excellent automotive repair and is optimistic about the future. Visit our website for more info at http://www.snowsgarage.com.