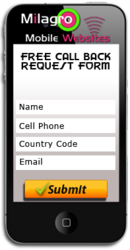 Quote:
…the biggest growth, without fail, we have seen for every single client, is the growth in mobile traffic, if you don't have a well though out mobile strategy you are losing out.
Baltimore, Maryland (PRWEB) April 15, 2012
The Digital Marketing Deva, Maya Mendoza of MilagroMobileMarketing.com was asked how business owners can best leverage Business to Businesses (B2B) Mobile Marketing in 2012. Here are her 5 Essential Questions and the fascinating and informative answers.
Maya was asked: Why is mobile marketing so important to business in 2012
Maya answered, "…after conducting many audits on our client's websites, the biggest growth we have seen, without fail, for every single client, is the growth in mobile traffic. In my opinion, it's time B2B companies paid attention and took mobile marketing more seriously."
She continued, "think of all those people who are viewing your company site on a mobile device. What do you think their experience is like? Was it a good one, or was the site so poorly presented on mobile that your customer will never come back again to read more content"?
Maya advises that if you have been charged with researching or putting together a business case for developing a company mobile website or a company app, then you may want to start looking into some of the data that Google Analytics has on your website's statistics and research effective mobile website design to help you back up your theories and plans. "At Milagro Fusion Marketing we have a 5 point questionnaire we ask clients to consider before developing a marketing strategy" she said.
The 5 primary questions are as follows:
Question 1. In what way has mobile traffic to your website changed?
Is the quantity of visits increasing and does the evidence suggest that it will continue to increase at that rate or more for the next 3-5 years. Although many businesses survey their customers about mobile phone use they often fail to ask the critical questions.
A. Will you be viewing OUR website from your mobile device?
B. What content will you be looking for when you view OUR website on your mobile device?
"You see the primary information any business considering adopting a good mobile marketing strategy needs, is to understand the type of information the B2B buyer will require on a mobile device" She explains, "each type of content would require a different approach depending on whether the primary reason to view your website is to read blog content, view product updates, order product, or see event information."
Question 2: Where are my mobile visitors coming from?
Google Analytics allows you to segment your mobile traffic and check at where it is coming from. Maya advises that you check:
A. Are they coming from Google?
B. What did they search for?
C. What page did they land on?
D. Did they get the information they required?
Question 3: What are your mobile visitors actually looking for?
Once again, Google Analytics advanced segments is an excellent tool to help you understand what information people are looking for from your site whilst on a mobile device.
4. Do you go for a Native app, Hybrid App or Web based app?
Before you delve into the world of mobile marketing it is important to understand the difference between a native app, hybrid app and a web app and which will suit your business objectives best. You can find a dull explanation of these types of app in Milagro's Mobile Marketing Blog
5. If you are developing an app what device will you develop for?
To answer this question you will need to know how many of your B2B audience use an iPhone? What percentage uses an iPad? How much traffic are you getting from Android or Blackberry? Going back to your Google Analytics, you can view which devices and operating systems are the most popular amongst those that come and interact with your website.
In conclusion Maya was asked what are the key points any businesses B2B mobile marketing strategy be focused upon?
She stressed that "website design is evolving every day and companies should become familiar with what is required to stay ahead of the game. Look into' Responsive Website Design' and do some research into it. In a nutshell, it is important that any mobile marketing strategy should aim to deliver the right content in a mobile friendly way so that it is easier for customers to find stock lists of your product within a given location. This will result in an increase demand from distributors and a decrease in customer support calls". She added
We think these 5 mobile marketing strategy considerations should be enough to help any business put together a B2B mobile marketing strategy.
For more information and support with these questions. and to get access our FREE 59 Point Mobile Marketing Health-Check please contact Digital Marketing Deva, Maya Mendoza or Milagro Mobile Marking via their website.