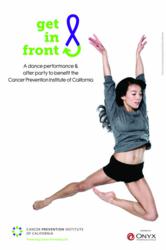 This one-night-only performance is limited to just 900 ticket holders
Fremont, CA (PRWEB) April 11, 2012
Tickets are now on sale for an evening of outstanding performance by dancers from the Bay Area's most celebrated dance companies. This one-night-only performance to benefit the Cancer Prevention Institute of California (CPIC) is scheduled for Wednesday, June 6, 2012 at 7 pm at the classic Herbst Theatre in San Francisco, and is limited to just 900 ticket holders.
The Get in Front Performance – a partnership between CPIC and San Francisco Ballet Soloists Garen Scribner and James Sofranko – will include performances by principal dancers from San Francisco Ballet, Alonzo King LINES Ballet, ODC/Dance, AXIS Dance Company, Smuin Ballet, Zhukov Dance Theater, Robert Moses' Kin, and Margaret Jenkins Dance Company.
Following the performance, the Get in Front Performance After Party will be held in the Herbst Theater Green Room. With illuminated San Francisco City Hall as the backdrop, guests can mingle with the dancers, and enjoy complimentary wine, savories, live entertainment, and a silent auction.
Performance tickets start at $35. All tickets priced at $125 or higher include admission to the After Party and Silent Auction. Information about purchasing tickets is available at http://www.getinfront.org. All proceeds from the evening directly benefit CPIC's cancer prevention research and other programs.
About the Cancer Prevention Institute of California
The Cancer Prevention Institute of California (CPIC), located in Fremont, CA, is the nation's premier organization dedicated to preventing cancer and to reducing its burden where it cannot yet be prevented. CPIC tracks patterns of cancer throughout the entire population and identifies those at risk for developing cancer. Its research scientists are leaders in investigating the causes of cancer in large populations to advance the development of prevention-focused interventions. CPIC's innovative cancer prevention research and education programs, together with the Stanford Cancer Institute, deliver a comprehensive arsenal for defeating cancer. For more information, visit CPIC's official website at http://www.cpic.org.