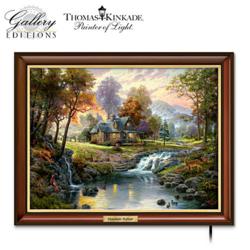 Niles,IL (PRWEB) April 12, 2012
The Bradford Exchange, like millions around the world, was saddened by Thomas Kinkade's untimely passing on April 6, 2012, and has made a commitment to continue serving the loyal collectors of his works.
For over 21 years, The Bradford Exchange and its family of businesses, Ashton-Drake Galleries and The Hamilton Collection, had the pleasure of working with Thomas Kinkade personally and treasured his friendship as well as his extraordinary passion, creativity and artistic talent. Over the years, the company partnered with the artist to place his paintings in hundreds of thousands of homes, incorporating his art into exclusive, limited edition collectible figurines, home and holiday décor, apparel and more.
"It's impossible to look at one of Thomas Kinkade's masterful paintings and not feel the spirit of faith, home, love and kindness that characterized Thom himself," said Leslie Joyce, Vice President of the Bradford Exchange. "There is simply too much profound beauty in his art still to be celebrated."
Customers of The Bradford Exchange expressed sadness and shock at the artist's passing, and visits to the company's Web sites and social media sites have increased as collectors seek to express their emotions and locate unique items that feature the artist's most popular masterpieces like "The Garden of Prayer," "Sweetheart Cottage," "Mountain Retreat" and other celebrated works.
The Bradford Exchange will proudly carry on the artist's legacy through its website, direct customer communications and social media channels. It is estimated that a Thomas Kinkade painting or collectible can be found in one in 20 American homes, securing the claim that he is "America's most-collected artist."
Simply put, Thomas Kinkade brought people together, and in his passing he has done so again. As one customer of The Bradford Exchange aptly put it, "His light will shine forever."
About The Bradford Exchange
The Bradford Exchange is the recognized leader in new product development and sales of collectibles including plates and dolls, music boxes and ornaments, as well as architectural villages, checks, die-cast cars and more. The Bradford Exchange family of companies includes: Bradford Exchange, Ashton-Drake Galleries, Bradford Exchange Checks, and The Hamilton Collection. The company's products are online at http://www.bradfordexchange.com.