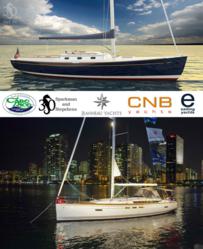 Newport, Rhode Island (PRWEB) April 13, 2012
Bluenose Yacht Sales, one of New England's leading broker dealers for used quality brokerage yachts as well as representing Beneteau Group's Jeanneau and CNB Bordeaux 60 brands combined with the new S&S 30, Cabo Rico, and the E33, is very excited to be participating in the upcoming Annapolis Spring Boat Show. This spring show takes place from April 27 thru April 29 on the water front in Annapolis, MD, and promises to be one of the most best shows in the Northeast for this 2012 spring season.
Bluenose Yacht Sales is proud to present the S&S 30, "BABE" together with Sparkman Stephens design team and sales staff to discuss the features, benefits and merits of this lovely new introduction of a 1935 Olin Stephens #97 design. Sporting a modern keel and efficient hull design while maintaining proportions and deck house lines of the original, the new "BABE" has been turning heads at shows and with trade magazine editors. For a history of "BABE" and more detailed specifications visit the Annapolis Spring Boat Show and say hello. Or of course visit our website: http://www.BluenoseYachts.com.
Additionally, we will be available to discuss other brands such as the E33 a wonderful Lyman Morse built sport sailing boat that has an enormous 18 ft cockpit combined with a modern sail plan that is easy to handle and great fun to race or sail. And if long distance comfortable cruising is your plan, the CABO RICO line of high quality off shore sailing models should be seriously considered for quality and comfort.
Bluenose Yacht Sales had an excellent reception and multiple sales at the recent New England Boat show in Boston for the all new Jeanneau 439. The Jeanneau model line up starts at 33' and goes up to the Jeanneau Yacht 57. Jeanneau won the Cruising World Boat of the Year for their new 379 model, built in the USA with many options for either performance or cruising. With one of the best warranties in the industry backed by a USA production facility has made Jeanneau the second largest successful brand in the world. Our expertise and model knowledge insures every client their next Jeanneau is configured and optimized for your needs and fun enjoyment.
Jeanneau presented the North American debut of the Jeanneau 509 in Miami two months ago and this new 509 model is also being presented at Strictly SAIL show in Oakland, California on April 12-15, 2012
Bluenose Yacht Sales with offices located in Newport, RI and Portland, Maine serves each client with personal attention to understand your preferences, experience and intended use in order to find the right fit that will deliver years of fun and yacht excitement for friends and family. Bluenose Yacht Sales is committed to "Excellence with Integrity" and long term client relationships rather than excessive size that can compromise quality of service.
Call us to discuss any of our brands or to explore how we might add value to assist your new or brokerage yacht purchase. We welcome new listings where our marketing and sales experience can make a meaningful differences. Quality brokerage boats are selling well during this spring 2012 season and we need more inventory.
Call - 877 - 695 - 6538.
Contact
Glenn Walters
Bluenose Yacht Sales
401 855 4355
Email: bluenoseyachts(at)gmail(dot)com