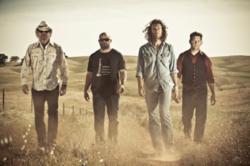 Cincinnati, OH (PRWEB) April 11, 2012
Arizona's finest rockers Roger Clyne & The Peacemakers return to Cincinnati to bring their dirty, raw, immediate and larger than life sound to the Ballroom at the Taft this June.
Reserved tickets, $15 ADV & $18 DOS (plus applicable fees), go on sale Friday April 20 at 10 AM at http://www.ticketmaster.com, http://www.tafttheatre.org, the Taft Theatre Box Office and all Ticketmaster outlets including select Kroger stores. Charge by phone at 1.800.745.3000.
A third generation Arizonan, songwriter Roger Clyne regularly bares his soul in rock 'n' roll originals that are often tinted with Southwest influences: a verse in Spanish here or a line about a desert landscape there. Clyne was an excellent student who participated in school musicals and choir but nonetheless, enjoyed tweaking the power structures of his high school community and rebelling accordingly. A road trip with buddies to Los Angeles in his junior year inspired him to start a band that played Ramones and Aerosmith covers and quickly became a popular act in the Tempe all-ages clubs.
Music did not truly become central to Clyne's life until he entered Arizona State University. In yet another contrast, Clyne pursued his psychology degree with an anthropology minor while playing in a string of college rock bands until he put together The Mortals in his sophomore year. Playing covers of R.E.M., The Clash and The Violent Femmes, Clyne began weaving his originals into the band's set list. Soon, requests for his songs outnumbered those for covers and The Mortals started opening for top-tier touring acts.
The Mortals (with a few lineup changes) became The Refreshments. Fueled by a summer hiatus at his father's serene ranch with his fellow world traveler and best friend, Michael, and girlfriend (and future wife) Alisa, Clyne penned many of the songs that would become The Refreshments' first album "Wheelie," released in 1994. The band played South by Southwest in 1995 and was quickly signed by Mercury Records. P.H. Naffah was auditioned to replace the band's departing drummer and almost immediately, the group began recording the songs for Fizzy Fuzzy Big & Buzzy. Released in 1996, the disc was Radio & Record's ninth Best-Selling Debut Album of the Year, went to #1 on Billboard's Heatseeker Chart and spawned two popular radio hits, "Banditos" and "Down Together." Mass-market adulation seemed imminent as The Refreshments performed on national late-night shows and Clyne wrote and performed the "King of the Hill" theme song with the band. Though the Refreshments released The Bottle & Fresh Horses in 1997, their efforts went unsupported by a change in label management and the band eventually disbanded in 1998.
Seeking a respite and inspiration, Clyne and Naffah twice scaled California's 14,000-foot peak Mt. Shasta and took a weeklong sojourn through their favorite Arizona desert. They then returned to the Phoenix club circuit and began playing happy hours as a duo. Over several months, they added lead guitarist Scotty Johnson (who eventually left the band in 2002), bassist Danny White and guitarist Steve Larson and officially became Roger Clyne & The Peacemakers.
Clyne is as passionate and pure about his music as he is about his dedication to his wife and three children. In both worlds, he's matured and become more sure and committed to his purpose. The band's web site tracks hundreds of postings by fans that laud Clyne as one of the greatest, albeit under-recognized, songwriters of his generation. The proverbial roller coaster continues to run, but with the momentum of praise from the media and fans, Clyne may soon have to get accustomed to a lot more attention.
For at complete list of Taft Theatre shows visit: http://www.tafttheatre.org
Contacts:
For Taft Theatre: Rick McCarty | Rmccarty(at)memi(dot)biz | 513.977.1087
For Roger Clyne & The Peacemakers: Maria Brunner | 480.951.1882