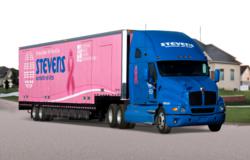 "... the Stevens' partnership with the National Breast Cancer Foundation is not concentrated or limited to a particular month or time of the year." Joseph Biskner, president, Stevens Worldwide Van Lines
Saginaw, Michigan (PRWEB) April 12, 2012
The Stevens Worldwide Van Lines pink truck recently made its Great Lakes Bay Region debut and is again off across the country.
The 53-foot pink moving truck is the centerpiece of Stevens' partnership with the National Breast Cancer Foundation, Inc.®
Stevens Worldwide Van Lines, which is a nationwide van line headquartered in Saginaw, Mich., recently introduced the vehicle and partnership with business leaders and others at an event in nearby Bay City, Mich.
Stevens is supporting that National Breast Cancer Foundation through corporate donations from each private state-to-state and international move. The moving company also will donate 10 cents for each mile the pink truck travels. The pink truck is part of Stevens' corporate fleet of interstate vehicles and is dispatched throughout the country. While moving customers typically cannot request a specific truck within the Stevens moving fleet, the van lines does attempt to meet requests for a particular driver, notes Joseph Biskner, Stevens' president and chief operating officer.
Stevens provides interstate and international moving services to nearly 20,000 families annually.
Unlike some breast cancer awareness campaigns, the Stevens' partnership with the National Breast Cancer Foundation is not concentrated or limited to a particular month or time of the year. The partnership runs year round, Mr. Biskner said.
Stevens also is providing opportunities for its nearly 150 moving agents nationwide and its employees to become involved with the effort.
Stevens opted to partner with the National Breast Cancer Foundation because of the organization's focus on education and prevention, as well as its grassroots outreach in communities and focus on research.
The National Breast Cancer Foundation, headquartered in Frisco, Texas, has provided nearly 24,000 mammograms annually for the past three years.
The organization also offers low-cost and free screenings and treatments in communities, as well as a variety of other outreach, prevention and education programs. In addition, the foundation supports two of the top breast cancer research centers in the nation – the M.D. Anderson Cancer Center at the University of Texas and the Cleveland Clinic -- and has partnerships with several other healthcare facilities across the country.
Stevens has developed a website dedicated to the partnership – http://www.stevenspink.com. Individuals also can share photos of the pink truck along its journey on the truck's Facebook page.