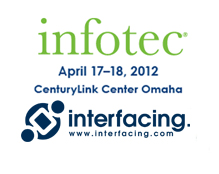 Montreal, Quebec (PRWEB) April 13, 2012
Interfacing Technologies has announced that its CEO; Meir Levi, will speak at Infotec 2012, the Midwest's premier IT and business conference to be held in Omaha, Nebraska April 17-18 at the CenturyLink Center Omaha. During the conference's breakout session, Meir Levi, whose BPM involvement spans since the early 90s will map out the true value of BPM to any organization, along with the potential pit-falls of incorrectly deploying BPM which can eventually risk the benefits. Additionally, through the use of real business cases and Gartner's BPM maturity model, Meir will demonstrate how organizations can create the transparency needed for governance and compliance while creating new levels of adaptable, compliant and agile operations. He will also outline the future of BPM according to Industry Analysts, and show how the creation of enterprise-wide framework of processes linked to people, applications and data create the necessary foundation for healthy growth.
Meir Levi has over 20 years of Business Process Management and Operational Excellence leadership and has worked with world leading organizations from diversified sectors such as J.P. Morgan-Chase, PepsiCo, Abbott, Australian Air Force, Ernst & Young and KPMG. As the CEO of Interfacing Technologies Corporation, Meir has been the driving force behind the Enterprise Process Center (EPC) - an award winning business process mapping and automation software that houses organizational processes, integrated with key roles and responsibilities, risks and controls.
Interfacing will also exhibit at the Infotec conference. For organizations desiring to employ business process management across their enterprise, please visit the Interfacing booth, where BPM experts will share first hand experience and advice as well as live demos of the Enterprise Process Center.
About Interfacing
Interfacing Technologies Corporation is a pure-play Business Process Management software and services provider with over twenty years in the space. Interfacing has clients globally across all industries and is well recognized for their personalized customer service and 24x7 support via their international office locations. Interfacing's BPM solutions are highly intuitively, designed for business users and cover the full spectrum of process improvement and governance initiatives. Multiple groups within the organization can collaborate and conduct diversified programs in parallel for business architecture, lifecycle management, automation, risk management and compliance, all within the same centralized process repository. Interfacing delivers the knowledge and puts the tools in the clients' hands to continuously improve operational performance and align their business objectives and GRC strategies with daily operations.
About Infotec
Established 37 years ago, Infotec is one of the longest-running educational and networking conferences for business leaders, IT professionals, educators, and innovators. Infotec is a service of the AIM Institute, a not-for-profit membership organization dedicated to empowering communities, organizations, and individuals through information technology.