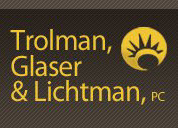 We are proud to see Evan and Mike recognized as part of the echelon of medical malpractice lawyers in New York.
New York, NY (PRWEB) April 12, 2012
Two medical malpractice lawyers from the New York law firm of Trolman, Glaser & Lichtman were recently recognized as among the top 1 percent of plaintiffs litigation attorneys for medical malpractice in New York.
Attorneys Evan Goldberg and Michael Madonna were listed as Top 1 Percent Trial Counsel - Medical Malpractice 2012 by the Medical Malpractice Lawyers (MML) website for the state of New York. Attorneys are named to the list as a result of a multiphase rating system used by the MML that considers peer surveys as well as an attorney's individual courtroom performance for the past 24 months.
"We are proud to see Evan and Mike recognized as part of the echelon of medical malpractice in New York," said firm managing partner Jeffery Lichtman. "TGL works very hard at representing individuals who have been the victims of medical negligence. Evan and Mike are truly dedicated to those individual clients they take into the court house."
Lawyers Goldberg and Madonna have each distinguished themselves in numerous ways within the legal profession and in the community. Attorney Evan Goldberg is a director of the New York State Trial Lawyers Association and was previously elected as chair of the trial lawyers section of the New York State Bar Association (NYSBA). He currently serves in the NYSBA's House of Delegates. He actively lobbies for victims' rights legislation, frequently speaks at legal events and has written several legal publications. Attorney Michael Madonna has obtained multimillion-dollar verdicts and settlements in every county in New York City.
The personal injury lawyers at Trolman, Glaser & Lichtman, along with their team of experienced support staff, have represented thousands of injured New Yorkers in the past 40 years and obtained more than $1 billion in settlements and verdicts for their clients. In addition to general personal injury matters, the firm handles medical malpractice cases, including those involving failure to diagnose, surgical errors, birth injuries, defective medical devices and dangerous drugs.
To contact Mike Madonna, Evan Goldberg or any of the medical malpractice attorneys at Trolman, Glaser & Lichtman, visit the firm's website at http://www.tglmedicalmalpractice.com or call 800-407-7190.
Medical Malpractice Lawyers.org is a website dedicated to educating the public about medical malpractice litigation and how to best protect their interests. In an effort to keep individuals from being taken advantage of by claims adjusters and inexperienced attorneys, the organization created the Top 1 Percent Trial Counsel for Medical Malpractice rating system. Those who make the list are considered to be outstanding lawyers, at the top among all attorneys practicing medical malpractice litigation in their state. The rating system is an independent system and lawyers are not allowed to pay a fee to be listed on MML's website. For more information on the organization, visit http://www.medicalmalpracticelawyers.org.