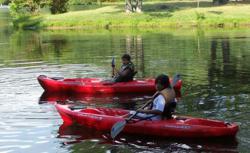 Family vacations will be cooler and kids will no longer be bored with these newest services offered by Cabin Creekwood
Waynesboro, VA (PRWEB) April 13, 2012
Summers and holidays are busy times for families who want to maximize the breaks they get from work and school. Parents often have a hard time finding the perfect getaway that will be acceptable to all members of the family. The adults should be able to get their much needed relaxation but at the same time, the place should offer sufficient activities so as not to bore the young ones. For parents confronted with this problem, Cabin Creekwood might just be the solution they're looking for.
Cabin Creekwood is located at Lyndhurst, Virginia, two miles away from the Blue Ridge Parkway and a mile away from "The Jewel of the Blue Ridge," Sherando Lake. This 24-acre lake forms part of the George Washington National Forest. It is a popular destination for both day-users and campers because it offers a wide range of activities from swimming, sunbathing, hiking, fishing, picnicking and camping. Sherando Lake is home to different varieties of fish such as largemouth bass, trout, catfish and sunfish.
For 30 years now, Cabin Creekwood has been known for providing "truly restful getaways" to its guests with its Blue Ridge Mountain cabin rentals. Visitors can choose from nine fully-furnished cabins in sizes from one to three bedrooms and styles ranging from pre-Civil War log cabins to modern mountain homes. This pet-friendly lodging provides its guests with kitchens, bedrooms and bathrooms that are complete with cooking ware, dinnerware, linens and towels.
Being a family-owned business, Cabin Creekwood is family-friendly and it knows what families need. Thus, it now offers the Sherando Lake canoe and kayak rental services. Family vacations will be cooler and kids will not be bored with these newest services offered by Cabin Creekwood. Guests can rent the 17' Coleman Canoe that can accommodate up to four persons.
Cabin Creekwood visitors can also choose from among the following Wilderness Systems brand Sit-On-Top Kayaks: one tandem or two-person kayak and two single kayaks. Parents need not worry about the safety of their kids when using these equipment because they are easy to maneuver, extremely stable and don't turn over easily.
The Sherando Lake canoe and kayak rentals at Cabin Creekwood include paddles and personal flotation devices. The equipment can be rented for two hours, half day or whole day. Delivery is likewise available.
With these exciting activities, families are guaranteed to have restful yet fun and cool vacations at Cabin Creekwood.
About Cabin Creekwood
Cabin Creekwood is a company based in Lyndhurst, Virginia. The business was established in 1982 by the parents of the current owners. In 1995, Stan and Deb Horst took over the business. Since then, they have been providing "truly restful getaways" in their Blue Ridge Mountain cabin rentals. To get more details, visit http://www.cabincreekwood.com/default.php or call 888-942-2246.