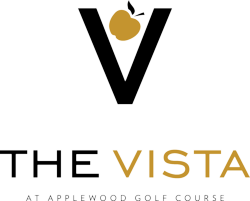 Golden, CO (PRWEB) April 13, 2012
Applewood Golf Course located in Golden, Colorado is nearing completion on its renovation to the upper level of their clubhouse, which has been named The Vista at Applewood Golf Course.
The panoramic windows are in, lighting is up and the brand new bar is coming together! Construction began early January 2012 and will ultimately result in a brand new event space with a warm Colorado motif and dramatic views of the North and South Table Mountains with capacity for events up to 300 guests. In addition to the new indoor event space, outdoor venues are also being constructed and will include a brand new ceremony garden for weddings and a deck for open air events. With the completion of all of the updates, The Vista at Applewood Golf Course is poised to be one of the most alluring event venues in the Denver area. Their grand opening celebration is currently scheduled for May 2012.
The Vista at Applewood Golf Course is currently accepting reservations for dates in 2012 and beyond.
For more information on The Vista at Applewood Golf Course visit us at http://www.vistaapplewood.com.
Media Contact:
Tara Seech, CMP
Director of Catering Sales
The Vista at Applewood Golf Course
(303) 279-3003 x 27
tseech(at)applewoodgc(dot)com